Posted by Elena del Valle on April 13, 2012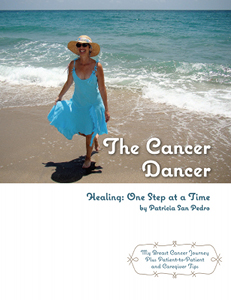 The Cancer Dancer book cover
Photos: San Pedro Productions
"You have breast cancer." Those dreaded words are heard by many women in the United States and world wide. Among them was Patricia San Pedro, a Miami publicist. With the help of friends and loved ones she kept track of her four year journey of treatment and recovery. She shared photos, her findings and 400 patient-to-patient tips in The Cancer Dancer Healing: One Step at a Time ($14.99), a 148-page softcover book self published in 2011. The book was among the items in this year's 54th Annual Grammy Awards Gift Bag.
"From the moment I was diagnosed, I felt a need to document my healing journey. My hope and goal was to share as much information as I could, in order to ease the journey for others who would follow. My book include more than 400 patient to patient tips that I gathered in the midst of my journey. My hope is also to inspire others to see the blessings and accept the gifts that come from every situation in our lives…even the difficult ones," said San Pedro by email when asked why she wrote the book.
She set up English, PositivelyPat.com, and Spanish language, PatriciaPositiva.com, websites and found volunteer translators to assist her in spreading the message to speakers of other languages. Not content with just publishing a book the positive thinker approached the Discovery Channel to share her video journal and message with a television audience. The 60-minute documentary, produced by Discovery Channel, Imagina U.S. and the author, aired on Discovery Familia in the United States and Discovery Home and Health in Latin America October 2011.
Patricia San Pedro, author, The Cancer Dancer in 2010
"I am on unofficial nonprofit. Everything I'm doing is a public service, but I haven't formed an official non profit yet. I'm actually hoping to raise funds so I can keep doing more of this. It's not easy to fund it all yourself. I've done lots with volunteers. Right now I need sponsors to be able to distribute the book for free to patients. And to print the Spanish and Portuguese versions, which are only in ebook format at the moment. I receive requests every single day asking for the book in a variety of languages," said San Pedro when asked about funding for her projects.
San Pedro, a three-time Emmy Award winner, is owner of San Pedro Productions. She is also a photographer and contributing author of Dish & Tell: Life, Love and Secrets written with five other women.
---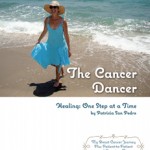 Click to buy The Cancer Dancer
---