Posted by Elena del Valle on February 28, 2014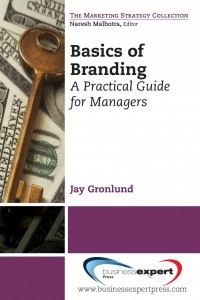 Basics of Branding
Photos: The Pathfinder Group
Not all brands are created equally. Some pass unnoticed and fade into oblivion while others linger in our minds for years or longer. What makes the difference? Powerful brands are different, compelling, and relevant enough to truly excite the minds and hearts — and wallets — of their customers. That is what Jay Gronlund, a business development consultant, believes. In his new book Basics of Branding: A Practical Guide for Managers (Business Expert Press, $43.95) he explains how readers can create an emotional connection with their customers that results in sustainable brand loyalty and steady revenue growth. The book is also available in digital format for $19.95.
"Yes, definitely. The principles behind branding are relevant for all types of businesses, big or small, product or service," Gronlund said by email in response to a question about the relevance of branding regardless of size of the company. "Brand positioning starts with defining and thoroughly understanding your target customer. Most start-ups are preoccupied with their new product or service, and don't pay enough attention to addressing what their potential customers want, especially from an emotional standpoint. Branding is basically about creating a relationship with a customer, and it has been proven by neuroscientists that emotions have the most influence on human behavior, including purchase decisions."
The 194-page softcover book with tables and illustrations published in 2013 is divided into six chapters: What Is Branding Really About?; The Positioning Statement, Emotions and Brand Equity; Branding Applications; Building Strong Bonds; Branding in the B2B World, New Opportunities; Marketing Today: Branding for Digital Marketing and Social Media. Gronlund proposes that it is critical to begin with a "message or impression that forges a bond of trust with that customer."
One thing to remember about branding? "Branding is all about forming a connection with your customer, ideally one based on experience and emotions that make that customer trust that brand," he said by email.
Jay Gronlund, author, Basics of Branding
When asked about developing a brand for an intangible such as an author he said: "A service, while not as concrete as a product, still requires good branding, since both must make a promise (i.e. the benefit) to a target audience, supported by credible reasons to believe this promise. Ultimately, a customer will become interested in a service, and buy it, only if they feel emotionally (and rationally) that such a service will add some value to their lives and make them more happy and satisfied. Any author, for fiction or non-fiction, should try to brand him or herself, so that the author's (brand) name will mean something special to prospective readers. Ideally building a bond with his/her audience is based on trust, plus the expectation that each time he/she will learn and/or be entertained. The brand impression the author provides should be distinct, relevant and tailored to the unique characteristics of his/her storytelling, content/subject matter, and flair for offering something new and creative."
Gronlund has held senior positions at Richardson-Vicks, Church & Dwight, Seagrams, and Newsweek. In 1990, he started The Pathfinder Group, a boutique business development consulting firm specializing in cross-border marketing; re-positioning brands; facilitating ideation sessions; and con- ducting workshops overseas. In 1999, he created a course on positioning and brand development for New York University he still teaches today.
---
Click to buy Basics of Branding
---