Posted by Elena del Valle on July 13, 2012

Cubans book cover
Photos: Facts About Cuban Exiles
Six women and twenty-five men contributed forty essays to Cubans: An Epic Journey (Reedy Press, $27.92), a 782-page softcover book with a 16-page photo section about their impressions of the South Florida Cuban exile experience from the 1950s until today published with the support of Facts About Cuban Exiles (FACE) with the sponsorship of John S. and James L. Knight, The Armando Codina Family, First Bank of Miami, Carlos Migoya, and Riteway Properties.
In the Introduction, the authors say that Cubans in the United States represent 3.5 percent of the Hispanic American population or approximately 1.8 million people. They explain that the largest concentration of Cubans (55 percent) lives in Greater Miami, Florida and describe the Miami community as having established a "parallel mainstream" where they "can sustain a refined culture – creating and preserving its own music, food, literature, theater, cinema, radio and television."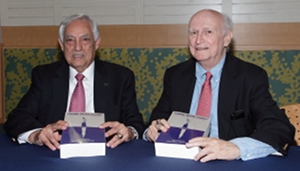 Sam Verdeja and Guillermo Martinez, editors, Cubans
The work was edited by Sam Verdeja, a magazine publisher, and Guillermo Martinez, a print and broadcast journalist. In addition to Verdeja and Martinez, Cesar Pizarro, a newspaper executive, Howard Kleinberg a newspaper editor, Louise O' Brien, a business executive, Leonardo Rodriguez, a university professor and Francisco Rodriguez, a broadcast commentator participated in the project. Other contributors include Jose Cancela, Eloy Cepero, Raul Chao, Juan Clark, Olga Connor, Carlos Curbelo, Rogelio de la Torre, Sonia Frias, Jose Garrigo, Armando Gonzalez, Jose Irastorza, Federico Justiniani, Aida Levitan, Roly Martin, Rene Murai, Olga Nodarse, Marcos Antonio Ramos, Alejandro Rios, Raul Rodriguez, Rene Rodriguez, Silvia Unzueta, Enrique Viciana, Alberto Vilar, and Eduardo Zayas-Bazan.
The book is divided into 39 chapters in two major sections, The History in the first 16 chapters and The Exile Experience in the remaining chapters, as well as an Epilogue and five appendices. The second section of the book is subdivided into Business and Finance; Arts, Entertainment, and Religion; Media and Advertising; Professionals; and Political, Civic and Social Life.
---
Click to buy Cubans
---