Posted by Elena del Valle on November 9, 2010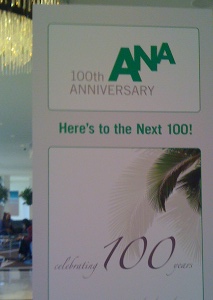 ANA banner near the meeting room
Happy anniversary! The national economic slowdown, registration fees between $1,195 and $1,395 and exorbitant parking fees at the Fontainebleau Miami Beach notwithstanding this year's Association of National Advertisers (ANA) Multicultural Marketing & Diversity Conference sold out. Six hundred people with an interest in diversity market segments registered for the ritzy event at the posh Florida hotel.
It is not the first time the organization's diversity conference does well. Attendance, like the emerging markets profiled and discussed at the conferences, seems to grow every year. In 2007, the event held in Boca Raton, Florida had record attendance of 430 (for more on the past ANA events see ANA 2007 multicultural conference has record attendance and National advertisers association recognizes members' multicultural TV ads).
Beatriz R. Perez of The Coca-Cola Company answered questions
The 2010 conference began Sunday, November 7, 2010 at 2 p.m. and concludes today at 3:30 p.m. Monday morning when Beatriz R. Perez , chief marketing officer, Coca-Cola North America, The Coca-Cola Company shared insights on her company's strategies to reach multicultural markets the large meeting room appeared to be near seating capacity. After she answered a few written questions submitted by the audience and selected and posed by a moderator Mark Addicks, senior vice president and chief marketing officer, General Mills discussed his company's diversity goals and efforts to target Hispanic and African American consumers. Outreach to Asian American audiences is on the wish list he said in response to a question from the audience.
Rick Wion, director of Social Media at McDonald's Corporation, outlined his company's four year old social media efforts and emphasis on authenticity and brand reputation management immediately before lunch. The near full lunch room was buzzing and the conversation was so loud at times it was impossible to hear the presentation (or see the bottom of the two giant screens) about workforce and workplace changes in the year 2020 by Tanya M. Odom, director of Innovation and Social Media and Coach, The FutureWork Institute.