Posted by Elena del Valle on May 20, 2014
B-boy in the air
Video, photos: Nadus Films
Inspired by concerns about guns, gangs and the uncertainty of a few b-boys survival in the ghettos they live in, and armed with the desire is "to impact the communities that helped make our films possible, while also impacting culture globally," in mid 2010 Coury Deeb, founder and director, Nadus Films, and a small film crew went to Guatemala City, Guatemala. They spent 25 days filming Bboy for Life, a 78-minute documentary about break dancing youth in the city. The film was released last week. Scroll down to watch a video clip in Spanish with English subtitles.
Filmed in Spanish with English subtitles the documentary focuses on the lives of a handful of youth and their loved ones, on the one hand, and incarcerated gang members on the other.
The filmmaker set out to showcase a story of struggle, loss, hope and victory. Featured are Cheez and Gato, described as two of the best b-boys in Central America. They and their teammates, known collectively as Poker Crew, battle in the streets and on stage to compete against other dancers to be the best b-boys in the region.
According to the promotional materials, because of the gang violence being a b-boy or b-girl in Guatemala City is risky. Gato's brother was shot and killed by a gang for not giving the names of other b-boys in his neighborhood, including Gato's. Also interviewed in the film is Leidy, an active gang member and mother of two, who had only been out of prison for three days. Leidy spent over three years in prison for extortion.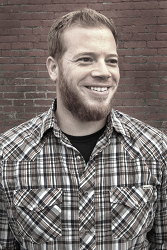 Coury Deeb, director, Bboys for Life
"Ultimately, it's a film about break-dancers, however, gangs are addressed in this film because it's reality for anyone who struggles in the ghettos of Guatemala City," said Deeb by email about the film which required 18 months of post production work and a $200,000 budget.
In response to a question about danger, he said: "We were careful, but at the same time, we're story-tellers. We don't sleep in the suburbs, instead, we buy crappy mattresses and sleep on the floor of a Guatemalans home in the ghetto. That's where the story is. This is where the adventure is. The results are finding yourself in a small alley with stoned gangsters with guns and asking them why they murder people. Or, sitting w/ serial killers in maximum security prisons and asking them why they tortured people. Danger is unavoidable for those who properly tackle social justice issues inside documentary film-making."
The film has attracted domestic and international distribution including attention as far as China. Funding was made possible by Blue Sky network, Aspiration Media, New World Distribution and a few smaller tiered associate producers.
"It's a powerful story, that encompasses some of the most entertaining elements to film making. Hip hop is global. There are b-boys and b-girls in every country. Regardless if you're in the ghetto or the suburbs, the story is highly entertaining and energetic, so it's garnered the attention and support from every walk of life," said Deeb, a filmmaker, storyteller, thrill-seeker, philanthropist, entrepreneur, husband and father of three. "Before the films release, we were able to get Leidy (central character) a year long scholarship. We also provided a scholarship for a few more b-boys in the Poker Crew."
The opening markets are New York, Los Angeles, San Antonio, and El Paso. Wide distribution is expected including the following channels: iTunes, Amazon (DVDs for purchase), Walmart (DVDS), Google Play, YouTube Movie Rentals, Playstation, Hulu, X-Box, SnagFilms, Roku, MGO, Vimeo as well as Video On Demand: Comcast, Time Warner, Cox and Starz.
The film received Audience Choice Award at Cate Santa Barbara Film Festival, Official Selection at A3C Hip Hop Film Festival, Best Documentary Direction at Cincinnati Film Festival, Official Selection at Bronzeville Film Festival and NYC Independent Film Festival Honorable Mention.