Posted by Elena del Valle on June 17, 2011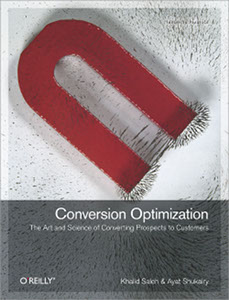 Conversion Optimization book cover
Photos: O'Reilly Media, Inc.
The internet has changed our lives in many ways. One of those is the way we gather and access information and, in some instances, buy and sell products and services. While the medium provides sellers direct access to potential buyers there are so many ads online surfers have become immune to them in many ways. Online potential customers are exposed to hundreds and, according to one source, as many as 3,000 ads each day.
Website owners and managers strive to drive traffic and more importantly sales to their space. As the internet has matured a specialty area has developed to help this process, conversion optimization. Experts in this field seek to maximize the number of sales related to the total number of visitors to a website.
In Conversion Optimization The Art and Science of Converting Prospects to Customers (O'Reilly Media, $34.99) Khalid Saleh, who has more than 12 years of experience in conversion optimization, and Ayat Shukairy, who dedicates her time to conversion optimization, website usability and online persuasion, explore the topic and share their tested and tried principles.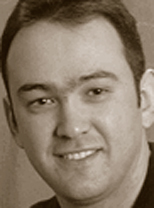 Khalid Saleh, coauthor, Conversion Optimization
They describe the Conversion Framework, a process they developed in 2007 and have refined since to encompass eight principles. The first six address a visitor's experience at a website and the likelihood he or she will remain there. They are:  understanding what website visitors seek, developing a website that inspires trust, being aware of the buying stages, addressing fears and related issues, incentives, and user engagement. The final two address testing and making a long term commitment to the process.
Ayat Shukairy, coauthor, Conversion Optimization
The 250-page softcover book published earlier this year is divided into two sections, online marketing and the Conversion Framework, and ten chapters: The Journey from Clicks to Sales, The Numbers Behind Your Website, Getting to Know Your Customers: Developing Personas, From Confidence to Trust, Understanding the Buying Stages, FUDs, Appealing with Incentives, Engagement, Testing: The Voice of Visitors, and Be Iterative.
Saleh and Shukairy are cofounders of Invesp, a conversion optimization company. Saleh, according to hi biography, has helped generate an average improvement of 65 percent in conversion rates for his customers. Shukairy is the company's lead conversion rate strategist and also boasts of 65 percent conversion rates in her biography.
---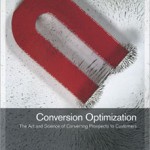 Click to buy Conversion Optimization
---