Posted by Elena del Valle on October 3, 2011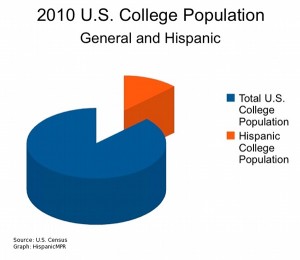 2010 college population – click to enlarge
Marketers and businesses targeting college youth should be aware that the demographic profile of college students is shifting. For many this is not surprisingly given the 2010 United States Census results. Last year there were 320,000 fewer non Hispanic whites in college compared to the year before. At the same time, the number of Hispanics in college for the same period increased by more than the decrease of non Hispanic whites.
There are approximately 12.2 million students attending higher educational institutions in the United States according to the Census. Of those about 1.8 million are Hispanics attending for profit and non profit institutions.
In 2009, there were 2,286,261 Hispanic undergraduate and graduate students at non profit institutions in the United States and Puerto Rico. By 2010 that number had increased to 2,476,417 resulting in an increase of 190,156, according to the Hispanic Association of Colleges and Universities (HACU). That organization's source of data is Integrated Postsecondary Education Data System (IPEDS), Pew Hispanic Center Reports, The Condition of Education 2011, and the Digest of Education Statistics 2010.

Antonio Flores, Ph.D., president and CEO, HACU
"We have seen a steady increase in the number of Hispanics entering higher education over the last several decades. The only surprising thing about this year's increase is its size. Such a large one year increase in Hispanic enrollments underlines the importance of acting now to assure college and career readiness for this population which already makes up half of those entering the American workforce today but are still handicapped by low college attendance and completion rates," said Antonio Flores, Ph.D., president and chief executive officer, HACU.
The Census data reflects 350,000 new Hispanic students attending college, a 24 percent increase between 2009 and 2010. That number is higher than the 190,156 increase above because it includes for profit and non profit organizations.
The largest increase of students in non-profit institutions from 2009 to 2010 was in California (71,952), Texas (52,464), New Mexico (5,538), New Jersey (5,428), and Florida (5,372). Hispanic student percentage distribution of fall 2009 enrollment: New Mexico, 42.4 percent; California, 30.3 percent; Texas, 29.7 percent; and Florida, 20.9 percent.