Posted by Elena del Valle on July 20, 2012
Sirenas promo image
Photos: Discovery en Español
Earlier this year, Animal Planet aired Mermaids: The Body Found, a two-hour science fiction special narrated by Greg Stebner based on "real events and scientific theory" filmed in Cape Town, South Africa; London, England and Bristol, United Kingdom. The computer graphics were done in Winchester, United Kingdom.
Mermaids explores the so called Aquatic Ape Theory which brings forward the possibility of human like evolution underwater. The filmmakers wonder whether it is possible that while mankind evolved into terrestrial humans some, aquatic relatives they believe, could have evolved into beings similar to the mythical mermaid. Discovery en Español will air Sirenas, a Spanish language version of the program, Sunday, July 22 at 9 p.m. ET/PT and 7 p.m. ET/PT July 28.

Image from Sirenas – click to enlarge
The program points to differences between man and other primates and the many features they believe humans share with marine mammals such as webbing between fingers (other primates don't have this, according to promotional materials), subcutaneous fat (providing insulation from cold water), control over breath (humans can hold their breath up to 20 minutes, longer than any other terrestrial animal, the program producers point out), limited body hair (lack of hair avoids drag in the water), instinctive ability to swim from birth, and a highly developed brain dependent on nutrients provided by seafood, according to the program's promotional materials.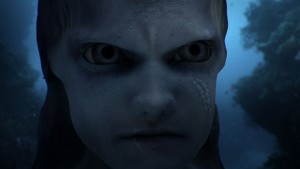 Image from Sirenas – click to enlarge
The producers focused on two facts in the special. First, a series of covert sonar tests conducted in the early 1990s by the United States Navy and linked to mass die-offs of whales, which washed up on various beaches throughout the world. They also gave weight to a mysterious sound deep in the Pacific thought to be organic detected (though never identified) in 1997 by scientists at the National Oceanic Atmospheric Administration (NOAA).
Mermaids was produced for Animal Planet, part of Discovery Communications, by Darlow Smithson with Tom Brisley as executive producer for Darlow Smithson; Charlie Foley as executive producer, creator and writer; Vaibhav Bhatt, co-writer and supervising producer, and Jamie Dugger, producer, for Animal Planet. Steve Gomez of Bandito Films was director of animation. Discovery en Espanol is the Spanish-language voice of Discovery.