Posted by Elena del Valle on February 10, 2012
Find Your Next book cover
Photos: Andrea Kates
Andrea Kates, a branding specialist, believes many businesses share a similar "genetic" structure. She is convinced that by understanding what works for a company's "genetic" type it is possible to fine tune that company focusing on strengths and avoiding weaknesses. In Find Your Next: Using the Business Genome to Find Your Company's Next Competitive Edge (McGraw Hill, $30), a 226-page hardcover book published this year, she outlines the method and steps she proposes to unlock a company's basic structure in order to focus on the fine tuning.
She believes there are six main parts to a business: product and service innovation; customer impact; talent, leadership, and culture; process design; trendability and secret sauce. Part of the research she conducted for the book consisted of in-depth interviews with representatives of P.F. Chang's, GE ecomagination, GM/OnStar, IndieGoGo, Placecast, Autodesk, Cisco Systems, and Jones Lang LaSalle.
Andrea Kates, author, Find Your Next
Kates fours steps are meant to combine experience and instinct. They are: sort through options and evaluate hunches; compare your business structure (she calls it genome) with existing successful businesses in your field; adopt the ideas of others you think will enhance your company; and release habits that are no longer useful and adopt those that can help your business grow.
Kates, according to her book bio, has worked as a business strategist, facilitator, and speaker, with 250 business innovation initiatives for corporations, entrepreneurs, and organizations including Royal Dutch Shell (Asia-Pacific), Audi, Allstate, Continental Airlines, Hewlett-Packard, JP Morgan Chase, KPMG, the Houston Texans (NFL), and OnStar.
---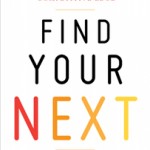 Click to buy Find Your Next
---