Posted by Elena del Valle on August 5, 2015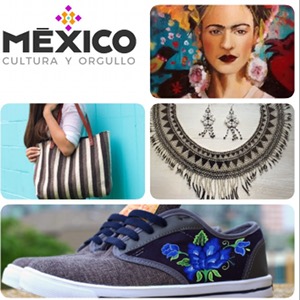 Mexico Culture & Pride
Photo: Mexico Culture & Pride
Adriana Pavon, a Mexican entrepreneur and fashion consultant, plans to catch the attention of people who support fair trade and are socially conscious and intelligent consumers with Mexico Culture & Pride, an initiative to help preserve Mexican culture by showcasing quality accessories designed in collaboration with indigenous groups. She hopes it will be funded by a Kickstarter campaign.
It is scheduled to kick off in 2016 with an Oaxacan region exhibit titled "Through Frida's Eyes" to showcase the importance of Mexican history and the work of traditional and contemporary artists through a variety of forms. Organizers plan to offer attendees the opportunity to experience Mexican culture through photography, video, dance, gastronomy and mixology.
"The idea of the project is to work in collaboration with various indigenous cultures," Pavon said by email. "We started in Mexico because that's my place of origin and I selected Oaxaca Mexico because it's where Frida Kahlo was from. The next exhibit will visit other regions of Mexico eventually reaching out to other countries."
The campaign should launch in Los Angeles, Chicago, Detroit, Grand Rapids, New York City and Mexico City on dates to be determined based on the support received from public donations. In exchange for contributions, the campaign will offer a reward of its selection. The money raised is meant to cover the cost of the logistics and a small stipend for the volunteers. The exhibit will be a compilation of one hundred items, including traditional wardrobe, video clips, 10 of a contemporary collaboration, and fifty images of the traditions and customs of the region.
All reward items are made with Mexican labor and materials, Pavon explained. The exhibit pieces will be mostly made in Mexico with the exception of the contemporary collection that may contain some French laces and United States materials.
The team behind the project is composed of individuals "who are passionate about their work and have extensive experience in their field." They have clients such as Project Runway Latin America, Mexico's Next Top Model, and Chrysler, and vast experience in manufacturing top brands, according to promotional materials. As part of the project, they will produce ten high end garments to be showcased in the traveling exhibit along with a collection of accessories in collaboration with regional artists.