Posted by Elena del Valle on June 5, 2014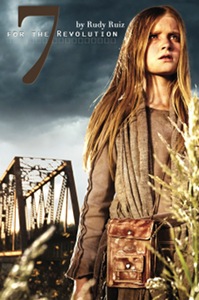 Seven for the Revolution
Photos: Bohlsen Group
Hoping to share his views on Latino immigrants and their desire to find opportunity and the American Dream Rudy Ruiz, the son of immigrants himself, shares seven fictional stories in
Seven for the Revolution A Collection of Short Stories (Milagro Press, $15). The 189-page softcover book was published in 2013. The stories are titled: The Colonel and His Bridge, Fighting Words, Bending the Laws of Motion, It's My Wall Now, Pierce the Sky, Liberty Lost, and Inverted.
Rudy Ruiz, author, Seven for the Revolution
Born and raised along the United States Mexico border Ruiz is president and chief creative officer of Interlex Communications, a cause-related social marketing agency. His previous works include ¡Adelante! and Going Hungry.
---
Click to buy Seven for the Revolution
---