Posted by Elena del Valle on July 21, 2009
Information provided by our Event Partner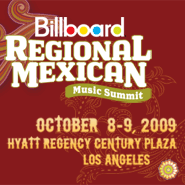 Billboard Regional Mexican Music Summit – Oct. 8-9, 2009
Hyatt Regency Century Plaza – Los Angeles
Save the date!
Special Rate for HispanicMPR
Use Promo Code: HMPR to Register Today For Only $225! A $225 Savings!
Go to  http://www.billboardevents.com/billboardevents/rmms/eng/registration/index.jsp
Registrations Issues? Contact Lisa Kastner at 646-654-4643 or LKastner@billboard.com
Now in its 4th year, this unique summit celebrates regional Mexican music and unites the key industry players that drive this lucrative sector of the Latin music business.
Superstar Keynote Q & A with Alejandro Fernandez!
Panel topics include:
• The Latest Indie Business Models
• Surviving the Recession: Investing Wisely
• The New Wave of Corridos
• The Hottest Radio, Touring and Digital Trends
• The Rise of Regional Mexican Music in Television
Register Today & Save with the promo code: HMPR at
http://www.billboardevents.com/billboardevents/rmms/eng/registration/index.jsp