Posted by Elena del Valle on June 6, 2022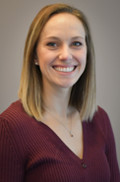 Talia Henkle, Ph.D., cancer content creator, Sparrow
Photo: Talia Henkle
A podcast interview with Talia Henkle, Ph.D., cancer content creator, Sparrow, is available in the Podcast Section of Hispanic Marketing and Public Relations, HispanicMPR.com. During the podcast, she discusses cancer with Elena del Valle, host of the HispanicMPR.com podcast.
Talia received her doctorate degree in immunology at Johns Hopkins University where she studied oncology, virology and cancer immunotherapies. Talia is a content creator for Sparrow highlighting cancer research by creating digestible articles designed for non-experts to easily understand.
To listen to the interview, scroll down and click on the play button below. You can listen by looking for "Podcast" then select "HMPR Talia Henkle, Ph.D." and download the MP3 file to your audio player. You can also find it on the RSS feed. To download it, click on the arrow of the recording you wish to copy and save it to disk. The podcast will remain listed in the June 2022 section of the podcast archive.