Posted by Elena del Valle on March 31, 2021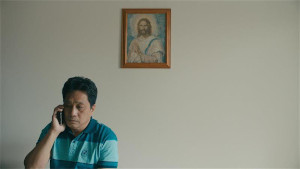 Joshua calls for help
Photos: David Magdael & Associates
Islands, a debut feature film from Martin Edralin, a Filipino Canadian filmmaker, was released this year. The 90-minute film with English subtitles centers on Joshua, a religious Filipino immigrant to Canada, and his parents whose health is declining.
Islands explores first love in middle-age and duty to parents. Issues of the Filipino diaspora in Canada feature in the background. The film was in the 2021 SXSW Film Festival  Narrative Competition. According to promotional materials, it was the first-ever Filipino-language narrative feature to premiere in competition at SXSW. It stars Rogelio Balagtas, Sheila Lotuaco, Esteban Comilang, Vangie Alcasid, Pablo Quiogue, Isys Szuky, and Maximus Szuky; and was produced by Martin Edralin, Priscilla Galvez.
His whole life Joshua, a timid, middle-aged single man, has lived with his parents. He pleads with God to find him a wife and is afraid of being without a love interest. When his mother suddenly passes he quits his job to look after his father full-time. Inexperienced at taking care of anyone, including himself, Joshua struggles with his father's care. A visiting cousin helps Joshua and his dad, and stirs confused emotions in the single man.
Filmmaker Martin Edralin
A Toronto-based filmmaker Edralin directed Hole, a short film screened at the 2014 Toronto International Film Festival (TIFF) and 2015 Sundance Film Festival. Hole, won the Grand Prize at Clermont-Ferrand, jury prize at the Seattle International Film Festival, and a Canadian Screen Award. Emma, his second short, was selected among TIFF Canada's Top Ten and won Best Live Action Short at the Rhode Island International Film Festival.
According to the SXSW Film Festival website Islands received Special Jury Recognition for Breakthrough Performance. The SXSW Film Festival strives "to celebrate raw innovation and emerging talent both behind and in front of the camera."