Posted by Elena del Valle on February 10, 2021
This Is How I Grow cover
Photos: Science, Naturally! 
In 2020 Science, Naturally! released This is How I Grow,*  a 51-page paperback book by Dia L. Michels for children ages seven to ten. A few months later Así Crezco, a 53-page paperback Spanish language edition of Dia's book, was published. Full page color illustrations in both were by Wesley Davies. In the books Michels explores the growth process for mammals with short text and illustrations. The books are priced at $12.95 each.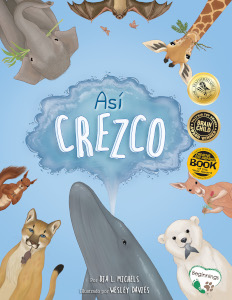 This Is How I Grow was translated by The Spanish Group, LLC. According to promotional materials, This is How I Grow received the 2020 Book of the Year award from Creative Child Magazine a Tillywig Brain Child award.
Illustrator Wesley Davies
Dia L. Michels, author, This Is How I Grow
Science, Naturally! is an imprint of Platypus Media , LLC. Michels, author of 12 books for adults and children, is publisher of Science, Naturally!  This is How I Grow is her fourth science book. New England artist Davies specializes in illustration and comic art. These two titles are a book debut of his work.
*Print review copy and photos provided by publisher.