Posted by Elena del Valle on February 3, 2021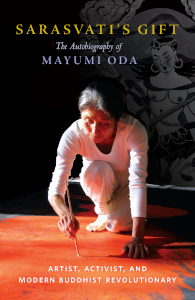 Saravati's Gift by Mayumi Oda
Cover photo: Shambhala Publications, author photo: Cindy Whitehawk
Born in Tokyo, Japan in 1941 Mayumi Oda grew up in a war ravaged country. In time she married an American and became an artist and activist. In Sarasvati's Gift The Autobiography of Mayumi Oda Artist, Activist, and Modern Buddhist Revolutionary (Shambhala, $22.95),* a 136-page softcover book published in 2020, the Hawaii resident shares part of her life story. The book includes 26 of her color illustrations each on its own page as well as family and personal photos.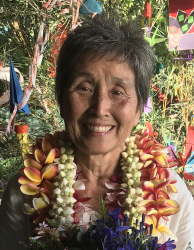 Mayumi Oda
In Chapter 1 she says she believes we are on the edge of disaster and at the same time poised for positive transformation. In the Afterword she shares her belief that toxicity is everywhere, that there is nowhere without pollution. She mentions having a stroke as she was completing her autobiography and as a result deciding she wants to dedicate the remainder of her life to writing and painting. She was unavailable to respond to email questions per a representative at the farm. A publishing company representative did not reply to email requests.
Oda, a painter, environmental activist, and Buddhist practitioner, describes her years in Japan, her marriage and the death of her son as well as her immigration to the United States, her inspiration and approach to art. In the 1990s, she started dedicating some of her time to activism pro women's rights, antinuclear causes and anti genetically modified plants, and founded Gingerhill Farm on the Big Island of Hawaii, according to her biography.
*Print review copy and photos provided by publisher.