Posted by Elena del Valle on November 10, 2020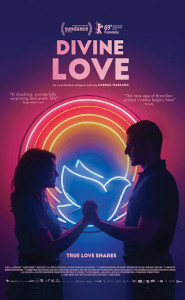 Divine Love poster
Photo, video: Outsider Pictures
Divine Love (Divino Amor), a 95-minute unrated futuristic drama from Globo Films and Vitrine Films in Portuguese with English subtitles, will premier in United States theaters November 13, 2020. A joint release of Outsider Pictures and Strand Releasing it stars Dira Paes and Julio Machado as a couple experiencing marital malaise and difficulty conceiving while living in Brazil of 2027. Directed by Gabriel Mascaro (Neon Bull) promotional materials recommend it for adult viewing only (nudity, explicit sexual scenes). Scroll down to watch a trailer in Portuguese with English subtitles.
Set in what appears to be an oppressive regime the film tells the story of Joana, a woman desperate to have a child. She visits a drive-through religious counselor regularly. She uses her position in a government office to convince divorcing couples to stay together, often directing them to Divine Love, an evangelical cult she belongs to that mixes group therapy, swinging, traditional prayers and bible study. A male child's voice narrates part of the dark story.
"The film takes place in a time when the majority of Brazil's population are now Evangelical, but the state still claims to be secular," said Mascaro in a press release. "It is a film that speculates the near future through an extraordinary allegory. Divine Love is a commentary on the conservative, fanatical and nationalist agenda that is spreading throughout the world and the way those that don't espouse it, engage with it. Brazil has traditionally been referred to as a liberal and united country, where the annual Carnaval celebrations espouse the country's diversity and cordiality. But the fact is that during the past few years, a cultural, social and political transformation led by powerful, ultra-conservative forces, has taken hold in the country. Instead of telling the story of a character fighting against against this conservative shift, I wanted to tell the story of a woman consumed by a desire to advance the conservative religious agenda in a very personal way. If a societal chasm has emerged as a result of hatred and misunderstanding, cinema is a space where I can fantasize improbable encounters."
Divine Love received government funding and funding from Sor Fond Norwegian South Film Fund, Programa Ibermedia Mascaro, World Cinema Fund Europe, and Creative Europe Media. Mascaro is a Brazilian film director, scriptwriter and artist who lives and works in Recife, in the Northeast of Brazil. Initially known for his documentary work, his first fiction film premiered in the international competition of Locarno Film Festival in 2014. In 2015, he released his Neon Bull, which won the Orrizzonti Special Jury Prize at the Venice Film Festival and was Brazil's entry to the Goya Awards in 2016. Divine Love, his third narrative feature, was an award winner at the Guadalajara International Film Festival and an official selection the Sundance Film Festival, Berlin International Film Festival and Miami Film Festival.