Posted by Elena del Valle on September 3, 2020

Clean
Photo: Penguin Random House/Riverhead Books
James Hamblin, a former radiology resident at the University of California Los Angeles turned health writer, begins the Prologue of his new book by letting readers know he hasn't showered in five years. Several researchers and experts he interviewed indicated they too showered infrequently. He wets his hair daily and washes his hands, but he mostly stopped using soap on his body and shampoo, he said in the book. Beyond that there is little more to guide readers on the topic of showers and hygiene (other than a list of references at the end of the book).
In Clean The New Science of Skin (Riverhead Books, $28) he explores the history of soap and discusses beauty and cosmetic products at length, interviews researchers and wraps up with a discussion of toilets and public health. The 280-page hardcover book published this year is divided into: Prologue, Immaculate, Purify, Lather, Glow, Detoxify, Minimize, Volatile, Probiotic, Refresh and Epilogue.
In the Epilogue he points out that one of the most dangerous places to catch an infection is a hospital. Health care providers, he says, spread infections around hospitals. He points to government data indicating that one in every thirty-one patients in hospitals in the United States acquires an infection while at the facility. He suggests that what might make our skin look good is eating and sleeping well, keeping our anxiety under control and spending time in nature.
Based in Brooklyn, New York Hamblin is a staff writer at The Atlantic and a lecturer at the Yale School of Public Health. His first book, If Our Bodies Could Talk, addressed topics such as dimples, tattoos, getting rid of eyelashes, stomach rumbling and how to sit. Although he responded to an initial email he failed to respond to questions as of this writing.
---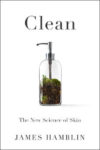 Click to buy Clean
---