Posted by Elena del Valle on June 3, 2020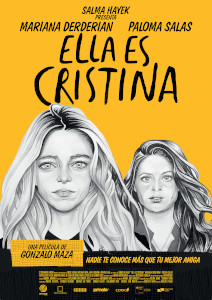 This Is Cristina (Ella Es Cristina) poster
Photo: Figa Films
One of the feature films in this year's 19th Los Angeles Latino International Film Festival (LALIFF), part of the Festival's Official Selection, was This is Cristina (Ella Es Cristina). The 82-minute Chilean film from Mar Humano and Primate Lab, in Spanish with English subtitles, was directed by Gonzalo Maza and distributed by Figa Films. Scroll down to watch a trailer.
Salma Hayek was executive producer along with José Tamez and Siobhan Flynn. The film received support from the Fondo de Fomento Audiovisual. The 2018 film, starring Mariana Derderian, Paloma Salas, Roberto Farias, Daniella Castillo, Nestor Cantillana, Alejandro Goic and Claudia Celedon, tells the story of two women in their thirties, Cristina and Susana, who have been best friends since high school. As their lives change their friendship suffers and is tested. There is a surprise ending. The film should be available at festivals and online beginning in September.
Despite the COVID-19 pandemic this year's Los Angeles based Festival, established in 1997, included seven feature films and 23 short films from 12 countries. The festival took place May 5 to 31, 2020. The countries represented were Argentina, Australia, Brazil, Canada, Chile, Colombia, Cuba, Mexico, Peru, Spain, United States and Uruguay.
Other features included Paper Children and The Last Rafter. Shorts included: 1, 2, 3, All Eyes On Me Accents; Acuitzeramo; Ailin on the Moon; Baby; Blanes and St. Muller; Borrachero; Flesh; Flowers Within; Lady Justice; María; Miguel; Muy Gay Too Mexicano; Napo; Ode to the Beans; Rizo; Say You Will; Status Pending; The Undocumented Lawyer; and Wilderness.
An organization spokesperson declined to identify the names of the individuals responsible for selecting films for inclusion in this year's festival. Funding, she said, is from "sponsors, donors and grants." As of this writing the only contact information available on the event website is via a contact form. No street address or phone number are listed.
According to a press release for the festival "LALIFF is presented by the Latino Film Institute (LFI), a nonprofit 501(c)(3) organization with the mission to showcase, strengthen, and celebrate the richness of Latino lives through the audio-visual event. According to the LALIFF About Us page, "The Latino Film Institute (LFI) showcases, strengthens, and celebrates the richness of Latino lives by providing a pipeline, platform, and launching pad from our community into the entertainment industry." It describes LALIFF as "dedicated to showcasing the entirety of human experience from the Latino perspective, whether through film, television, digital, music, art, or any other vehicle, regardless of platform."