Posted by Elena del Valle on March 20, 2019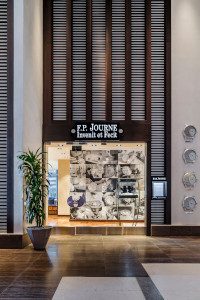 Although the space is called Maison F.P. Journe the sign above the store reads F.P. Journe Invenit et fecit.
Photos: Kris Tamburello
Last month Francois Paul Journe and Pierre Halimi Lacharlotte opened Maison F.P. Journe, a watch boutique offering upscale liquor and Petrossian snacks, in
Miami (270 Biscayne Boulevard Way, Suite 101, Miami, Florida 33131, 305-993-4747, miami@fpjourne.com). The 3,200 square foot space will sell 15 Swiss watch models in different iterations. The shop has seating capacity for 42. It includes 10 bar seats and two lounges inside the boutique, as well as seating for 20 on the outside Terraza Astondoa, a cigar lounge. The exterior sign of the store reads: F.P. Journe Invenit et fecit. The last three words, according to a spokesperson, translate to "invented and made" from Latin, and is meant to certify that "each of the watches carrying FPJ's name results from an entirely original conception with rigorous craftsmanship."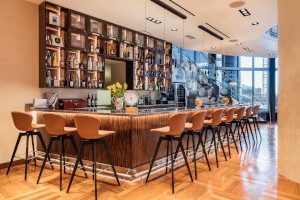 The shop has seating capacity for 42.
The owners expect the shop to attract affluent people in Miami, liquor connoisseurs, watch aficionados, caviar fans and "anyone who enjoys an elevated bar and retail experience." The space includes Bar Journe, an upscale bar that serves curated bites, Petrossian caviar and rare liquors. The outdoor lounge area outfitted by Spanish yacht-maker Astondoa is described as offering stunning views of Miami and cigars by La Flor Dominicana.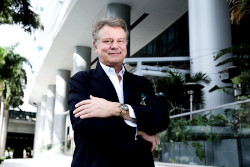 François-Paul Journe, co-owner, Maison F.P. Journe
A "fine and rare" collection includes about 24 antique and aged items. Watch prices range from $11,000 for the Electro Mechanical Elegante in 40 millimeters for ladies or men to 711,000 Swiss francs. Prices are offered in Swiss francs "because the price in USD is given at the time of purchase to accurately reflect the conversion," according to a company spokesperson. One watch, the Tourbillon on a baguette set platinum case and bracelet, sells for $939,900.
Sample prices for liquor, spirits and wine include $8 for a beer, $55 for a 2 ounce serving of 1942 Don Julio Añejo on the rocks and $385 for a bottle of Cabernet Sauvignon. The caviar is from different farms around the world and prices range from $98 to $990. The shop sells three types of caviar, Royal Shassetra, Alberta President and Ossetra President, at 30 grams or 125 grams accompanied by yuca chips. There is also a suggested pairings for each caviar and a tasting menu priced at $485.