Posted by Elena del Valle on May 3, 2018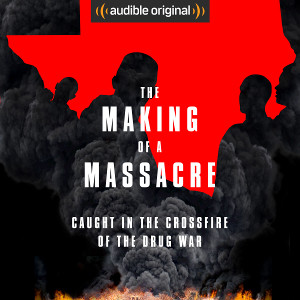 The Making of a Massacre
Images: Audible, ProPulica
On May 4, 2018 the final parts of The Making of a Massacre, a five-part audio series (The first part of the series is already available for Audible members on the company website) should become available. In the series, Ginger Thompson, investigative reporter, ProPublica, takes listeners through the nonfiction story of the disappearance of dozens of people from Allende, a small Mexican border town. She relies on interviews, English voice over excerpts of interviews with townspeople, officials, and cartel members to illustrate "the way in which well-intentioned efforts to curtail the drug trade had devastating real-life results."
The review edition of the audio recording, about two hours long, had uneven volume and at times it was difficult to distinguish sounds and words from sound effects and background noises. Despite multiple requests submitted two weeks in advance via a publishing company representative first and later directly to the journalist, Thompson declined to respond to questions about the recording.
Ginger Thompson
According to promotional materials, Thompson spent 15 years at The New York Times, including time as a Washington correspondent and as an investigative reporter whose stories revealed Washington's secret role in Mexico's fight against drug traffickers. While at The Times, she covered Mexico's transformation from a one-party state to a fledgling multi-party democracy and into breaking news events across the region, including Cuba, Haiti and Venezuela.
For her work in the region, she was a finalist for The Pulitzer's Gold Medal for Public Service. She won the Maria Moors Cabot Prize, the Selden Ring Award for investigative reporting, an InterAmerican Press Association Award, and an Overseas Press Club Award. Thompson was also part of a team of national reporters at The Times that was awarded a 2000 Pulitzer Prize for the series How Race is Lived in America.