Posted by Elena del Valle on November 14, 2016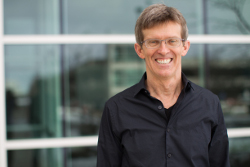 Kevin Spelman, Ph.D., EVP, Usana Health Sciences
Photo: Usana Health Sciences
A podcast interview with Kevin Spelman, Ph.D., executive vice president, Research and Development division at Usana Health Sciences, is available in the Podcast Section of Hispanic Marketing & Public Relations, HispanicMPR.com. During the podcast, he discusses the science of cellular communication with Elena del Valle, host of the HispanicMPR.com podcast.
Kevin is a 29-year veteran of the natural products industry. Prior to that, he directed quality control and research and development for the largest manufacturer of liquid extracts in the United States. He is a past National Institutes of Health postdoctoral fellow and Marie Curie research fellow in the European Union, and has published 27 scientific papers. He also advised the White House Commission on Complementary and Alternative Medicine and provided expert testimony to the Maryland House of Delegates and the Maryland Senate.
His past research includes molecular biology of the brain and ovarian cancer, as well as clinical investigations, immunological studies, and chemical analysis on multiple natural products. International research includes the analysis of nutrient levels in teenage girls in West Africa, working with children with neurological disorders in Central America, and researching phytochemicals to treat malaria in Paris. Kevin is also an adjunct assistant professor at Massachusetts College of Pharmacy and Health Sciences, an adjunct professor of botanical medicine at National College of Natural Medicine, and a lecturer at the Maryland University of Integrative Health.
To listen to the interview, scroll down until you see "Podcast" on the right hand side, then select "HMPR Kevin Spelman, PhD" and click on the play button below or download the MP3 file to your iPod or MP3 player to listen on the go, in your car or at home from the RSS feed. Some software will not allow flash, which may be necessary for the play button and podcast player. If that is your case, you will need to download the file to play it. To download it, click on the arrow of the recording you wish to copy and save it to disk. The podcast will remain listed in the November 2016 section of the podcast archive.