Posted by Elena del Valle on August 24, 2016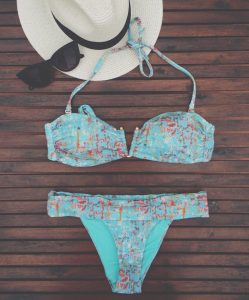 A Lumé bikini
Photos: Lumé
Paula Daza was born in Colombia and raised in the United States. As a young woman she decided she wanted to raise funds for people in her country of birth. In 2014, she founded Lumé Swimwear, a Katy, Texas based company Daza describes as "a 100 percent ethical luxury fashion brand that combines fashion, art, and giving back." Lumé makes swimwear, beachwear, mochila bags and shoes from nylon and spandex in Medellin, Colombia and sells the vast majority, 90 percent, to customers in Europe. She hopes to grow her domestic market share.
The company, which Daza says follows fair trade practices and supports underprivileged children, offers 49 styles, including men's trunks, ranging in price between $140 and $170 each. A page on the company website features photos of people with sewing machines in the background holding signs that say "I made your clothes" at the top. At the bottom there are photos of adults and children some of them holding toys. Lumé donates 10 percent of proceeds to the JuanFe Foundation (juanfe.org/en/). To date donations have reached $4000.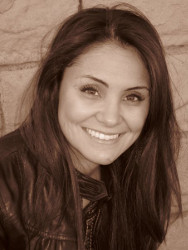 Paula Daza, owner, Lumé Swimwear
When asked about her company's charitable donations Daza said by email via her publicist,"…and every summer I spent it in Colombia and would see the need of the people, the homeless children without shoes, the poor living in slums and it would just break my heart. I promised myself at that young age that one day I would find a way to give back to my native country in some way how ever little it may be."
Before establishing her own company Daza worked in merchandising, buying and developing and launching other brands and designers. After many years in the fashion industry in New York City she found a path to follow through on the promise she had made herself. Overcoming a period of life changes led her to decide she wanted to start fresh by pursuing her three passions in life: fashion, art, and giving back. That in turn prompted her to establish her company.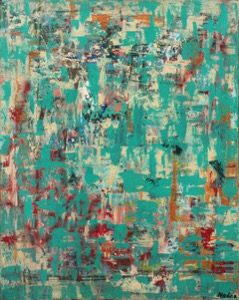 Euphoria, a painting by Edgard Medina, served as inspiration for Lumé products.
Lumé beachwear inspired by art by Edgar Medina
To make its swimwear products Lumé transfers the original paintings of artists into prints for women who like fashion and art, seek to be unique while at the same time like purchasing items that are sustainable and eco-conscious. In exchange the artists receive a 10 percent license fee and exposure for their art. The 2016 collection features the work of two artists, including Edgar Medina whose art appears above. Medina is a Houston, Texas based abstract painter originally from Mexico.
"The process of picking artist to collaborate with is a very organic process, many artist write to us and some we have found by seeing there art work first," Daza said when asked how she selects the artists she works with for the designs. "We also look to work wth artist that are involved in their community, it is important to work with artist that share that same vision of giving back and helping other through art. It is important for us at Lume to work with artist that are both an exceptional artist with unique work and at the same time philanthropic, because that is at the core of our co mission."
"The reason I participate in this model is because I liked the idea to have my work in swimwear collection," said Medina by email. "But, what made me fall in love even more is the charity work behind Lume Swimwear. A percentage of the sales goes back to a charity of choice. As an artist, I am very committed to give back to my community and help others in need through my work. I am so blessed to be able to give back to my community through my work. It is so satisfying to see the proceeds from a sale of an Edgar Medina original go to help a child with cancer, provide medical services to low-income teens or send a child with Muscular Dystrophy to camp. It is very important to me to give back to the community in honor of all that I have achieved and overcome in my own life."
According to his bio, Medina originals have been shown across the country at galleries in Chicago, New Orleans, Santa Fe and Houston; and Medina has been a featured artist at Art Chicago, The Los Angeles Art Show, Art Santa Fe and Red Dot Miami. He works out of his studio space in Montrose within Native Citizen, which features his gallery where clients can visit him at work.