Posted by Elena del Valle on August 10, 2016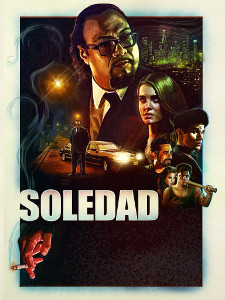 Soledad poster
Photos, video: Candy Factory Films
Soledad, a suspenseful, soulful 95-minute indie drama released in theaters July 26, 2016 features a world-weary ex-con limo driver and a high school couple he's driving to their prom in Los Angeles. The work of first-time writer-directors Eduardo Maytorena and Wayne Mitchell the film received the Grand Jury Prize Runner-Up at the 2015 Dances with Films Festival, and was an Official Selection at the San Francisco Latino Film Festival and the 31 Chicago Latino Film Festival. Soledad, a Candy Factory Films movie, was released via VOD (video on demand) and digital HD on iTunes, Amazon, Google Play and Vudu. Scroll down to watch a video clip.
 
In the film, Victor (Jesse Celedon), a lonely, Latino limousine driver lives a solitary existence: lifting weights in his small apartment, saying silent grace over breakfast, and enduring the disrespect of his clients night after night. One evening, after defending Raquel (Montanna Gillis, The Vatican Tapes, Don Peyote), his well-off passenger, from being assaulted by her prom date, Victor's simple act of compassion sets off a series of events destined to bring back a past he has fought desperately to escape. The film takes viewers on a meandering and sometimes violent road trip with sexual situations (no nudity), through the city of Angels focusing on the unlikely friendship between Victor and Raquel.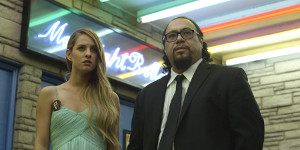 A scene from Soledad
Soledad was shot over 17 days between January and April of 2014, mostly in Downtown Los Angeles, Silverlake, Echo Park, Pico Rivera, Glendale, and Mission Hills, with a budget of $120,000. In 2015, it toured U.S. and international film festivals.
"We never shot more than three nights in a row since we could only afford to use the limo on Mondays, Tuesdays, and Wednesdays, (Weekend rates were too steep), " said Mayortena by email through the film's publicist when asked about the making of the movie. "Post production lasted 10-12 months as we continued to make changes up to our delivery to the distributor."
When asked about funding for the movie, Mayortena replied, "I work at a Spanish radio station as a creative sales director. I shared my vision of Soledad with one of my clients Douglas Bravo and he was intrigued.  After a few more conversations he agreed to give us the money on two conditions. One was that we (myself, writing directing partner Wayne Mitchell  and lead actor Jesse Celedon) invest our own money in the film so his investment was protected. The second was to take our vision of a short film and grow it to a feature so there would be an opportunity to see some return on investment. We are very blessed and grateful to Douglas for challenging us to dream bigger."
Candy Factory Films, founded by Jason Ward, strives to be a "forward-thinking, filmmaker-friendly multimedia company dedicated to producing and distributing high impact, unique and compelling films."
---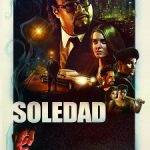 Click to buy Soledad