Posted by Elena del Valle on July 25, 2016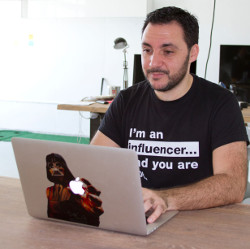 Ismael Elqudsi, CEO, SocialPubli.com
Photo: SocialPubli.com
A podcast interview with Ismael Elqudsi, CEO, SocialPubli.com, is available in the Podcast Section of Hispanic Marketing & Public Relations, HispanicMPR.com. During the podcast, he discusses multicultural influencer marketing with Elena del Valle, host of the HispanicMPR.com podcast.
Ismael has been chief executive officer at SocialPubli.com since the startup was launched on July 2015. He is also CEO of Internet República, an online marketing agency, the parent company of SocialPubli.com. During the three years prior to the establishment of Internet República, Ismael was head of social media and search engine optimization at Havas, one of the largest media agencies in the world. Previously, he was in charge of Bing in Spain, the Spanish yellow pages and Noxtrum, a Spanish search engine.
To listen to the interview, scroll down until you see "Podcast" on the right hand side, then select "HMPR Ismael Elqudsi" and click on the play button below or download the MP3 file to your iPod or MP3 player to listen on the go, in your car or at home. Some software will not allow flash, which is necessary for the play button and podcast player. If that is the case for you, you will need to download the file to play it. To download it, click on the arrow of the recording you wish to copy and save it to disk. The podcast will remain listed in the July 2016 section of the podcast archive.