Posted by Elena del Valle on April 15, 2016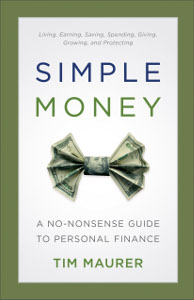 Simple Money
Photos: PR by the Book
Tim Maurer, director of personal finance, at Buckingham and the BAM Alliance, helps a team of 350 financial advisors nationally focus on the personal, non-numerical elements of financial advisory work such as behavioral finance, client interaction and communication. He dedicated a little over a year from idea to publication to Simple Money A No-Nonsense Guide to Personal Finance (BakerBooks, $15.99), a 285-page softcover book published this year, hoping, he says in the first chapter, for readers to find contentment, a richer life and a freer mind through the book.
When asked by email via his publisher how he defines simple money, he said: "Money management is complex because we are complex. Therefore, it is in better understanding ourselves that we are able to make even the most confounding financial decisions simple."
The book is divided into 21 chapters and five parts: Planning for Life, Planning for Today, Planning for the Inevitable, Planning for the Unexpected and Planning for Action. He wrote the first two parts of the book, Planning for Life and Planning for Today, for all readers. The remainder he wrote for those curious about a particular topic like investing, life insurance, retirement planning or estate planning. He starts outlining four basic concepts: Personal finance is more personal than it is finance; We need to know why; Simple not simplistic; and Enough is "enough."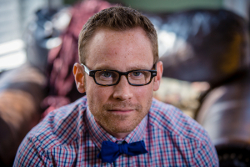 Tim Maurer, author, Simple Money
"For many years, I've said that 'personal finance is more personal than it is finance,' a statement that resonates anecdotally with most," he said when asked why he wrote the book. "But my research more recently, especially in the field of behavioral finance and the science of motivation, has proven the statement to be scientific fact. This inspired me to synthesize the best of behavioral finance and use it as a lens through which to reexamine personal finance. The challenge, of course, was in making it 'simple' enough to be practical. But that's always been my passion."
The biggest challenge he faced writing the book was that, "Although it's not the first time I've shared it, I give the most detailed rendition to date of the story of my near-death car accident that forever shaped my view of life, work and money," he said. "It's an important story, and it's good for me to tell it, but it's not necessarily easy."
Each chapter begins with an explanation of what makes the topic relevant to the reader and ends with summary points. In the book, he says that "One of the ways we can make financial decisions simple is to genuinely understand what motivates us." He goes on to say that although motivation is at the root of what we want too often it remains separate from our financial planning.
---
Click to buy Simple Money
---