Posted by Elena del Valle on January 15, 2016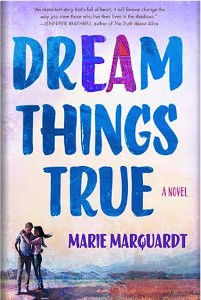 Dream Things True
Photos: Kenzie Tainow, St. Martin's Griffin

Despite an already busy academic and personal life Marie Marquardt dedicated part of her time over five years to write and publish Dream Things True (St. Martin's Griffin, $18.99), her first fiction book, hoping to make readers 13 and older understand that "Undocumented immigration is complicated, and it's so often misrepresented in the sound bites we hear on the news. I want to give readers a chance to see this issue through the eyes of love, and to be reminded that love is more powerful than fear."
The 330-page paperback book tell the story of a teenage couple who live in the same town and fall in love only to be torn apart by circumstances related to the young woman's immigration status. The undocumented minor, an illegal resident of the United States since she was two years of age who excels in school and has a loving family, and her love interest face the challenges of her situation and the complications brought on by immigration, young love and family.
"Because I've written non-fiction books about undocumented immigration, I often get asked to talk with groups of non-immigrants about these issues," Marquardt said by email when asked what prompted her to write the book. "I know a lot of facts and figures, and these help people think about immigration in new ways, but I find that what really matters is relationship – knowing and loving a person who faces these issues is what makes a person care. Not everyone gets the chance to know and love an undocumented immigrant, but fiction can give us all the opportunity to step into their lives – the lives of immigrants and the lives of people who love them. This is powerful, and I believe it is so important – it helps us to overcome all of the politicized rhetoric, and simply to see each other as human beings deserving of love and respect."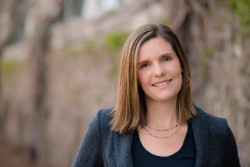 Marie Marquardt, author, Dream Things True
When asked why she chose fiction, she said "I have had the real honor and pleasure of developing close friendships with undocumented immigrants, and I've been a part of their children's lives as they have grown up. I wanted to create a story that draws on the range of experiences I have had with undocumented young adults — that dives into the emotions of those experiences, not just the facts. Plus, writing fiction is so much more fun!"
In May, 2015, the book was named one of five 2015 Book Expo America (BEA) Buzz Books. It has been featured in The Atlanta Journal and Constitution, The Huffington Post, and Mundo Hispanico. She participated in a blog tour around the time of release, and was featured on more than thirty book blogs. This month, her guest post is due to appear on Latin@s in KidLit, and the book is a January 2016 selection for the Las Comadres and Friends National Latino Book Club Conversations with… series.
Marquardt, a college professor in Decatur, Georgia, was inspired by her work with Mexican immigrants in Georgia. For the past five years, she has worked with volunteers to run El Refugio, a nonprofit that offers temporary lodging and support for the loved ones of detained immigrants.
---
Click to buy Dream Things True: A Novel
---