Posted by Elena del Valle on January 4, 2016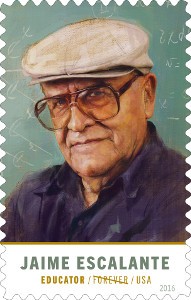 Jaime Escalante US stamp
Photo: United States Postal Service
Following the recommendation of its Citizens' Stamp Advisory Committee, the United States Postal Service will issue a self-adhesive Forever Stamp to honor Bolivian born educator Jaime Escalante, probably in the summer of 2016. December 31, 2015 would have been his 85 birthday.
Press materials from the Service describe Escalante as a "beloved and charismatic California educator (who) used unconventional methods to inspire his inner-city students not only to learn calculus but also to pass Advanced Placement tests in the subject. With his colleagues at Garfield High School in East Los Angeles, he proved that students judged to be 'unteachable' could master even the most difficult subject."
The design of the stamp with a 49 cent price features Escalante in a digital illustration meant to resemble an oil painting. The illustration is based on a 2005 photograph taken by Jaime W. Escalante in a classroom where his father had taught. The average print run for Forever stamps is in the 20 to 30 million range. The print quantity for the Jaime Escalante Forever Stamp has not been announced. The Postal Service is promoting the stand alone stamp (not part of a collection) through print, TV and broadcast as well as mainstream media, Hispanic media and social media.
"There is no advertising budget," said Roy Betts at the U.S. Postal Service Corporate Communications office via email. "The Postal Service typically promotes new stamps through media channels and in-store retail messaging in local Post Offices."
Born to schoolteachers in La Paz, Bolivia Escalante learned to teach by trial and error and by imitating the methods of teachers he had admired as a student. In 1961, Escalante spent a year in the United States as part of President John F. Kennedy's Alliance for Progress, a program to improve relations between the United States and countries in South America. As part of the program, Escalante attended classes in Puerto Rico and traveled to schools around the country to study their methods.
In 1963, Escalante received his immigration visa and arrived in the United States. He came alone, planning to find a job and housing and then send for his family. Because of his limited English, he had difficulty finding employment. Eventually, he found a job mopping floors in a restaurant, enrolled at Pasadena City College, and brought his wife and son to California. Since his Bolivian teaching credentials did not transfer to the United States he had to start his education from the beginning.
He received his bachelor's degree in mathematics from California State University in 1973 and then won a prestigious National Science Foundation scholarship, which allowed him to study full time and earn his teaching credentials a year later. He quickly found a job at Garfield, a school in crisis with high dropout rates and gang violence, and in jeopardy of losing its accreditation.
Fame came to Escalante in an unexpected way when in 1982, 18 of his students took the Advanced Placement (AP) Calculus Exam. After they, Mexican Americans from a low-income area of Los Angeles, all passed and seven students received fives, the highest score, the ETS College Board accused 14 students of cheating and requested that they retake the exam. Twelve of the 14 did, and all passed the second exam, a different version from the first.
Their story made the national news, making him and his class instant heroes and led to the making of the movie Stand and Deliver. That same year, publication of Escalante: The Best Teacher in America, a book by Washington Post reporter Jay Mathews, brought him additional acclaim. Later Escalante showed how math is used in real life as part of the Public Broadcasting Service (PBS) series Futures. In 1988, Escalante won an award from the Hispanic Heritage Foundation. In 1999, a year after he retired from teaching he was inducted into the National Teachers Hall of Fame. He died on March 30, 2010.
The Citizens' Stamp Advisory Committee is a group of private citizens with "a passion for American history and a love of stamps, who are appointed by the Postmaster General of the United States." They are: Gail Anderson, partner, Anderson Newton Design; Peter Argentine founder, Argentine Productions; Justin Bua, artist and creator of genre known as "distorted urban realism;" B. J. Bueno, founder, The Cult Branding Company; Cheryl R. Ganz, author; Henry Louis Gates, Jr., Alphonse Fletcher University Professor, W.E.B. Du Bois Institute for African and African-American Research, Harvard University; Janet Klug, chair, Philatelist; Carolyn Lewis former chief executive of Texwood Furniture Inc; Harry Rinker, antiques and collectibles appraiser; Maruchi Santana, founder, The Brand Extension Katherine C. Tobin, Ph.D., commissioner, U.S. – China Economic  and Security Review Commission; and Donna de Varona, TV sports commentator.