Posted by Elena del Valle on September 18, 2015
Customer-Centric Marketing
Photos: Wiley, Aldo Cundari

Marketer Aldo Cundari believes the lessons he learned while studying art in and exploring Italy during his formative years have served him well in his 30-year business life. In Customer-Centric Marketing Build Relationships, Create Advocates and Influence Your Customers (Wiley, $25), a 154-page hardcover book published this year, he shares some of the lessons he has learned through trial and error in his career. A main one of those is that marketing should always focus on the customer. 
He strives to define the path customers follow and offer insights on customer experience, innovation, content, social media, and operating strategies to guide readers in formulating a marketing plan. He seeks to inform readers on ways to identify and influence new consumers, position their company within the marketplace, find and connect with individuals friendly to the brand and with the potential to spread its message. The book is peppered with graphs, illustrations and screen captures.
"There has been a great deal of change in the marketing world over the last 10 to 15 years," Cundari said by email when asked why he wrote the book. "The tools and tactics that worked for the last 60 years are no longer effective. It was the information age that led to the onset of social technology that created freedom of choice and the empowered customer. This empowered customer holds all the power in how they will interact with a brand. So finding a new way to communicate to customer was essential. At the same time, new technology has complicated the decision on what is effective and works and what does not. My goal for the book was to put context to where we are and how to better understand the forces affecting marketing."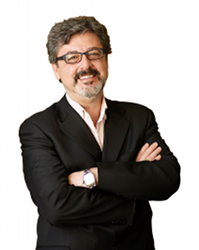 Aldo Cundari, author, Customer-Centric Marketing
Regarding why companies engage in non customer centric marketing he said, "The current marketplace and how you reach customers has become more and more complicated, and without understanding of the forces affecting the challenges, I believe that marketers just default to using the tools and tactics that worked for them in the past, all with ever diminishing returns."
Cundari explained that finding the data and cases studies that consistently demonstrate that the Customer-Centric Marketing approach works was the biggest challenge in writing the book.
"What I found was when you look deep enough you realize that there are many examples emerging," he said. "All I applied is the logic and understanding behind the forces, affecting success. What most surprised me was when you remove all the shinny new technology things that supposedly help marketers entice customer and you peel back all the new terminology that has layered confusion over understanding, you end up in the same place we have always been, 'human nature is, what it is', you have a person with a need, so why not fill that need."
Cundari is chairman and chief executive officer of Cundari Group. His firm specializes in integrated marketing, branding and design, and interactive and software development services powered by research insights.
---
Click to buy Customer-Centric Marketing
---