Posted by Elena del Valle on May 18, 2015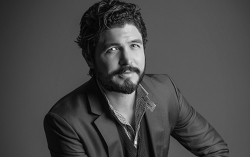 Alejandro Monteverde, director, Little Boy
Photo: Metanoia Films
A podcast interview with Alejandro Monteverde, director, Little Boy, is available in the Podcast Section of Hispanic Marketing & Public Relations, HispanicMPR.com. During the podcast, he discusses his film Little Boy (see With video New film about believing in the impossible) with Elena del Valle, host of the HispanicMPR.com podcast.
Alejandro is a Mexican writer whose first feature, Bella, won the People's Choice Award at the Toronto Film Festival, and brought him the American by Choice Award for its positive contribution to Latino art and culture in the United States. His second feature, Little Boy, was picked up for general release by Open Road and had its debut in theaters nationwide April 2015.
Little Boy, produced by his company, Metanoia Films, tells the story of a boy willing to believe the impossible in order to bring his father back from World War II. Alejandro is developing his next film, The Hidden Ones. It is a dark international thriller about a brilliant killer murders the twelve holiest monks on earth and the young FBI agent who dives dangerously deep into the killer's demonic world. He and his wife Ali Landry, an actress and former Miss USA, live in Los Angeles with their three children.
To listen to the interview, scroll down until you see "Podcast" on the right side, then select "HMPR Alejandro Monteverde" and click on the play button below or download the MP3 file to your iPod or MP3 player to listen on the go, in your car or at home. To download it, click on the arrow of the recording you wish to copy and save it to disk. The podcast will remain listed in the May 2015 section of the podcast archive.