Posted by Elena del Valle on May 6, 2015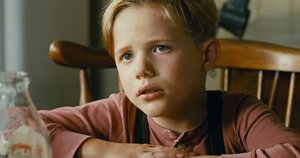 Jakob Salvati plays Pepper Flynt Busbee in Little Boy
Video and photos: Metanoia Films
In a town of bullies and bully enablers, prejudice and fear, an eight year old boy, who is small for his age, suffers when his father, his best friend, heads off to war. The young boy's unshakable faith in the return of his father against all odds is at the heart of Little Boy, a lovingly made 106-minute movie set in a Rockwellian United States town during World War II. Little Boy was shot entirely in Mexico and the post production work was done in Los Angeles. It took five years to produce and was completed in 2014. It was released nationwide April 2015. Scroll down to watch a trailer.
The film stars Michael Rapaport, Jakob Salvati, Emily Watson, Ali Landry, and Eduardo Verastegui, and was produced by Mark Burnett, TV and movie producer (Survivor, The Apprentice, Shark Tank, The Bible Series). In the movie, Pepper Flynt Busbee (Jakob Salvati) is willing to do whatever it takes to end World War II because he is convinced that with the end of the war his father will return home. He struggles in his difficult journey and learns several important lessons along the way.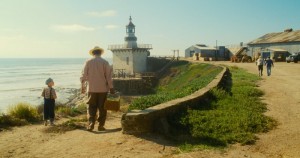 A scene from Little Boy – click to enlarge
Little Boy, with a $20 million budget, was written and directed by Alejandro Monteverde. He also wrote and directed Bella which won the People's Choice Award at the Toronto Film Festival, and the American by Choice Award for its positive contribution to Latino art and culture in the United States.