Posted by Elena del Valle on August 1, 2014
Target Opportunity Selling
Photo: McGraw-Hill
In Target Opportunity Selling: Top Sales Performers Reveal What Really Works (McGraw-Hill, $28), Nicholas A.C. Read, author of Selling to the C-Suite, outlines the strategies he believes are successful for top corporate sellers. Read begins by introducing a model, The Sales Expansion Loop, which he says assigns Marketing, Sales, Management, and Service roles for targeting sales opportunities throughout the stages of a long-lead sale.
He based the Sales Expansion Loop on first hand interviews with hundreds of sales professionals around the world. His recommendations are based on 20,000 hours with business to business sellers in companies of various sizes and diverse locations, according to the book.
The 316-page hardcover, book published this year, is divided into 15 chapters: Beyond the Sales Funnel, Research, Contact, Precision Questions, Qualify Their Interest, Qualify Your Seat at the Table, Qualify Your Ability to Win, Social Capital, Find the Influencers, Align To Key Stakeholders, Sell Your Solution, Form A Competitive Strategy, Establish Your Proof, Compete on Value, and Closing and Opening.
In the final chapter, the author recommends that sellers get together with their customers to create a report of sorts in which they address after the sale issues, measurement and results. He also mentions that sellers request testimonials from happy customers, take their pictures and display them. He says "Top sellers collect case studies and reference stories like trophies…"
Read, former executive director at Ernst & Young, is the founder and managing partner of the SalesLabs. He is a speaker, consultant, and columnist.
---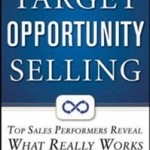 Click to buy Target Opportunity Selling
---