Posted by Elena del Valle on July 25, 2014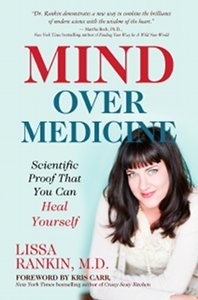 Mind Over Medicine
Photo: LissaRankin.com
Lissa Rankin, MD, a physician and New York Times bestselling author, is convinced that the lessons she learned over years of medical school and clinical practice are not all set in stone. In her 2013 book Mind Over Medicine: Scientific Proof That You Can Heal Yourself (Hay House, $24.95), she shares the process that led her to discover what she believes is a better way to health, and what it might mean to patients.
Your mental attitude, the author says, is the most important factor in your health even ahead of sleep, nutrition, weight, exercise and lifestyle. According to her website, she is "on a grass roots mission to heal health care by repairing the doctor-patient relationship, while empowering both patients and health care providers to marry the best of Western medicine with mind-body approaches scientifically proven to activate the body's natural self-repair mechanisms."
In the 259-page hardcover book she says that for more than 50 years the medical establishment has been proving the mind can heal the body. In a candid easy to read style she shares her personal growth path and conclusions.
She wraps up the book with six steps she believes may optimize a body's natural self-repair mechanisms. She proposes that it is essential to believe you can heal yourself with the support of others. Listening to your body's signals or what she calls the Inner Pilot Lights is key, she says. If after seeking medical advice you don't have a diagnosis identify what the source of your problem might be and figure out a way to address it, remembering to be your own healthcare advocate, the author suggests. Realize that the results you obtain may not be those you sough initially, she says.
Rankin is founder of the Whole Health Medicine Institute training program for physicians and other health care providers. When not spreading her message, she likes to hike, paint, and practice yoga.
---
Click to buy Mind Over Medicine
---