Posted by Elena del Valle on March 6, 2014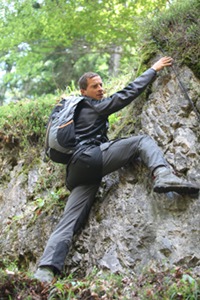 Bear Grylls
Video, photos: Discovery en Español
Targeting an adult audience between 25 and 49 years of age Discovery en Español will release the six-part series Bear Grylls: Escape from Hell (Escape del Infierno con Bear Grylls) as part of a new programming block dedicated to human adventure and survival shows Thursday nights. The programs will be dubbed into Spanish from the original English language production. The first 60-minute segment will air at 9 p.m. ET/PT March 6, 2014 and the final episode will air April 9 of the same year. Scroll down to watch a promotional video in Spanish.
According to a press release, Escape del Infierno con Bear Grylls reveals true stories and first person accounts of people who escaped death in some of the most desolate and hostile places on the planet. Each episode presents three real life incidents in places such as the heart of the Amazon Jungle or California's Sierra Nevada. Grylls traces back the steps taken by survivors, analyzing their life-saving techniques, mistakes made, and the ways they could have adverted danger.
A scene from Vivir para Contarlo
Some of the stories described in the program include: Eric Le Marque, who endured eight days in below zero temperatures in California's Sierra Nevada. Even after falling in the freezing waters of a river, he kept walking until he was rescued; the French explorers Loic Pillois y Guilhem Nayral, who each lost more than 45 pounds after roaming the heart of Amazon for seven weeks; Polish natives Maciej Tarasin end Tomek Jedrys, who became lost in the Raudal del Tiburon Canyon in Colombia; Italy's Mauro Prosperi, a contestant in a race in the Sahara Desert who went astray and had to face the highest temperatures on the planet for nine days without water.
The Bear Grylls series, produced by betty (an English production house owned by Discovery Communications Inc.) for Discovery Networks International in English, was completed and aired in the United States and abroad in 2013. Sarah T Davies is executive producer for Discovery Networks International. Neil Smith is the executive producer for betty.
A scene from Supervivencia – click to enlarge
Other survival shows to be featured as part of the Thursday night block include a new season of Vivir para Contarlo Thursdays at 8 p.m. ET/PT. The original series highlights stories from Latin America. A weekly program Supervivencia al Desnudo will air Thursdays at 10 p.m.ET/PT. It will showcases a new pair of total strangers, one man and one woman, stranded in and exposed to some of the world's most extreme weather environments in a remote location, for 21 days, without food, water, or clothing.