Posted by Elena del Valle on September 27, 2013
Contagious Optimism book cover
Photos: Cleis Press
Optimist David Mezzapelle believes his ability to anticipate good results before they take place is part of the secret to his success in life. He anticipates rewards or Life Carrots in challenging situations to help him overcome them and move forward.
In Contagious Optimism Uplifting Stories and Motivational Advice for Positive Forward Thinking (Viva Editions, $16.95) Mezzapelle and 65 others share stories, outcomes and advice meant to be uplifting.
The 405-page softcover book published this year is divided into eight sections: Talent; Goal Analysis; Turning Envy and Jealousy into Something Positive; Relationships; Business and Careers; Maturing and Staying Young-Health, Fitness and Relaxation; Need Help Getting Somewhere?; and You Have Arrived! At the end of each story there is a short summary of the take away concept within an easy to find box.
David Mezzapelle, editor, Contagious Optimism
Mezzapelle was the founder and director of marketing of Goliath Technology before it was sold in 2007. He launched JobsOver50.com. Today, he dedicates his time to consulting projects and serving on boards.
---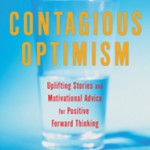 Click to buy Contagious Optimism
---