Posted by Elena del Valle on June 10, 2013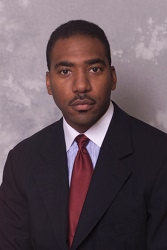 Hamilton Brown, senior brand manager, Procter and Gamble Company
Photo, videos: Fleishman-Hillard Miami, Procter and Gamble Company
A podcast interview with Hamilton Brown, senior brand manager, Procter and Gamble Company, is available in the Podcast Section of Hispanic Marketing & Public Relations, HispanicMPR.com. During the podcast, he discusses the first Gain web novela with Elena del Valle, host of the HispanicMPR.com podcast. Scroll down to watch behind the scenes video of the filming of Aroma de Amor in Spanish.
Hamilton leads the Gain Fabric and Home Care Megabrand with sales of over $1.5 billion dollars. He is responsible for the delivering business, sales, volume and profit objectives, development of business strategy, advertising, and leading multifunctional teams to deliver consumer inspired innovation to the marketplace.
His previous assignment was as global brand manager of Old Spice.
Hamilton's business leadership accelerated the brand's global footprint through the delivery of product innovation and advertising campaigns that drove share growth around the world. He was the co-creator of The Man Your Man Can Smell Like concept featuring Isaiah Mustafa which won five Cannes Lions. Prior to his career at Procter and Gamble, he worked as an architectural engineer for four years with the SmithGroup. Hamilton is a resident of West Chester, a suburb of Cincinnati, Ohio.
To listen to the interview, scroll down until you see "Podcast" on the right hand side, then select "HMPR Hamilton Brown" or click on the play button below. You may download the MP3 file to your iPod or MP3 player to listen on the go, in your car or at home by clicking on "Get HMPR Podcast" above the podcast player. The podcast will remain listed in the June 2013 section of the podcast archive.