Posted by Elena del Valle on May 13, 2013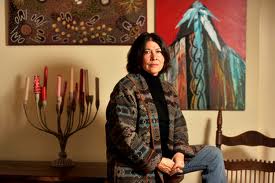 Rebecca Adamson, president, First Peoples Worldwide
Photo: First Peoples Worldwide
A podcast interview with Rebecca Adamson, president, First Peoples Worldwide, is available in the Podcast Section of Hispanic Marketing & Public Relations, HispanicMPR.com. During the podcast, she discusses the value of indigenous economics with Elena del Valle, host of the HispanicMPR.com podcast.
Rebecca, a Cherokee economist, is also founder of First Peoples Worldwide. A leader, activist, and ground-breaking indigenous woman, Rebecca holds a distinct perspective of how indigenous people's value and economic systems can transform business models of today. Since 1970, she has worked directly with grassroots tribal communities, and nationally as an advocate of local tribal issues.
She established the US development institute, First Nations Development Institute in 1980. In 1997, she created the United States based global indigenous peoples non government organization First Peoples Worldwide. Rebecca's work established the first microenterprise loan fund in the United States; the first tribal investment model and a national movement for reservation land reform.
As one of few Native Americans on a mutual fund board, the Calvert Social Investment Funds, Rebecca led the creation of the Calvert Foundation's Community Notes, the only private sector investment vehicle for community development financial institutions or CDFIs. Last year some of her efforts led the International Finance Corporation, the World Bank and the UN Principles of Responsible Investors to adopt standards for implementing policies regarding Indigenous Peoples, human rights and transparency.
To listen to the interview, scroll down until you see "Podcast" on the right hand side, then select "HMPR Rebecca Adamson" or click on the play button below. You may also download the MP3 file to your iPod or MP3 player to listen on the go, in your car or at home by clicking on "Get HMPR Podcast" above the podcast player.  The podcast will remain listed in the May 2013 section of the podcast archive.