Posted by Elena del Valle on March 1, 2013
Information provided by Event Partner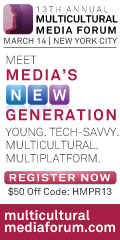 Horowitz Associates' 13th Annual Multicutural Media for Multicultural America Forum
March 14, 2013 | Marriott Marquis Hotel, NYC
7:30 a.m. – 4:30 p.m.
Now in its 13th year, this annual Forum is THE venue for learning about trends that affect and influence your viewers and your audiences—America's multicultural consumers. This year, we will explore "Media's New Generation": multicultural, tech-savvy 18-34 year-olds who interact with both traditional and new media in myriad ways, through a host of cutting-edge devices. Our agenda includes a presentation of Horowitz Associates' latest research on Hispanic multicultural consumers and their media habits, a showcase of the most exciting new multicultural programming, and panels of key industry executives organized around four topics that drive the media industry: the Audience, Content, Technology, and Advertising.
Confirmed speakers include:
Ruben Mendiola, VP and General Manager, Multicultural Video Services, Comcast
Steven Wolfe Pereira, EVP for MediaVest and Managing Director for MediaVest Multicultural
Michelle Webb, Executive Director of Content Acquisition & Programming, Verizon FiOs
Miguel Ferrer, Executive Producer, Digital, Fusion
Lino Garcia, General Manager, ESPN Deportes
Adriana Waterston, VP, Marketing & Business Development, Horowitz Associates, Inc.
The Multicultural Media Forum will take place on Thursday March 14th at the Marriott Marquis in New York City from 7:30 a.m.-4:30 p.m. Visit www.multiculturalmediaforum.com for more information and to register. Enter promotional code HMPR2013 and receive an extra $50 off!
For more information and sponsorship opportunities, please contact us at 914-834-5999 or kirstynn@horowitzassociates.com.