Posted by Elena del Valle on December 10, 2012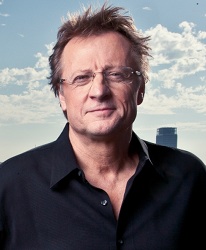 Phil Cooke, author, One Big Thing
Photo: Phil Cooke
A podcast interview with Phil Cooke, author, One Big Thing is available in the Podcast Section of Hispanic Marketing & Public Relations, HispanicMPR.com. During the podcast, he discusses discovering your purpose in life with Elena del Valle, host of the HispanicMPR.com podcast.
Phil has been an agent of change for millions of people through his work in television and the media. He lectures at Yale University, UC Berkeley and UCLA, and spent the past 30 years advising many large organizations. He has appeared on MSNBC, CNBC, CNN and Fox News, and his work has been profiled in The New York Times, Los Angeles Times, and The Wall Street Journal. He is also the author of Jolt! Get the Jump on a World that's Constantly Changing (Thomas Nelson, 2011). He blogs on change, disruption, culture, and media.
To listen to the interview, scroll down until you see "Podcast" on the right hand side, then select "HMPR Phil Cooke" click on the play button below or download the MP3 file to your iPod or MP3 player to listen on the go, in your car or at home. To download it, click on the arrow of the recording you wish to copy and save it to disk. The podcast will remain listed in the December 2012 section of the podcast archive.
---