Posted by Elena del Valle on October 29, 2012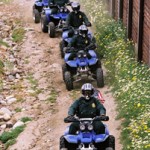 Border Patrol officers use All Terrain Vehicles to patrol the border with Mexico
Photo: U.S. Department of Homeland Security
In the first half of this year more people entered the United States illegally through Mexico and fewer migrants returned to Mexico, according to researchers on both sides of the border. Such traffic numbers were unusual in that 2007 was the last time researchers saw growth in border crossing numbers toward the United States.
Staff at The Mexican Migration Monitor, a joint project of The Colegio de la Frontera Norte and the Tomas Rivera Policy Institute at the University of Southern California, estimate there are some 11.7 million Mexican born people living in the United States including documented and undocumented immigrants. That number may increase slightly by the end of the year, according to the two organizations. The principal investigators of the Monitor are Roberto Suro and Rene Zenteno. The academics rely in part on the Border Survey of Mexican Migration said to be "the oldest continuous research program tracking original data on the number of people crossing the U.S.-Mexico border, with the objective of providing unbiased estimates of Mexican labor flows."
They believe that the numbers indicate the size of the Mexican-born population in the United States has fully recovered from the decreases caused by or following the Great Recession. Recently, unemployment among those migrants, they point out, has dropped and labor force participation rates have held up indicating that the economic performance of the undocumented immigrants from this group may be slightly better than for native-born workers in the United States.
Another indicator considered by researchers of Mexico to United States border crossing and economic trends is the transfer of money from Mexicans in the United States to relatives in Mexico. The researchers have concluded that remittance levels have recovered lost ground following two years of growth post Great Recession.