Posted by Elena del Valle on October 12, 2012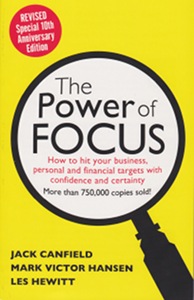 The Power of Focus book cover
Photos: Jack Canfield, Mark Victor Hansen
Ten years ago Jack Canfield, Mark Victor Hansen and Les Hewitt combined their ideas and experiences about finding success in The Power of Focus. Their work, according to promotional materials, has influenced as many 750,000 people around the world.
"True success in life is based on results, not theories. Specific focused action is a lot more important than words," said Hewitt. In relation to the audience for the book, he responded by email that "this would include business owners, entrepreneurs, managers, salespeople and anyone interested in their own professional and personal growth. Anyone who feels overwhelmed, scattered, always too much to do and never enough time or those who feel guilty because work seems to consume them and family time suffers. The book provides practical solutions for all of these issues."
The Power of Focus How to hit your business, personal and financial targets with confidence and certainty tenth anniversary edition (Health Communications, Inc., $14.95), a 356-page book published last year, is divided into twelve sections. The three authors offer strategies, techniques and anecdotes they believe based on their experiences will lead readers to success. At the end of each section they included recommended action steps. They are convinced that people who adopt new habits are likely to see a difference in their results. They also included five case studies of successful business people who relied on their strategies on their way to the top.
Jack Canfield, co-author, The Power of Focus
"The Power of Focus 10th Anniversary edition is a highly recommended read for those who believe their lives matter, have determination to succeed and have the drive to do whatever it takes to achieve their personal and professional goals. This is a time in our history when clarity, planning and wisdom is necessary to survive," said Canfield by email in response to the question of who would benefit from reading the book. "This book gives readers these tools to manifest and achieve their biggest goals, sharpening their skills to take on today's challenges. If your life matters you will read this book and put it to work for you!"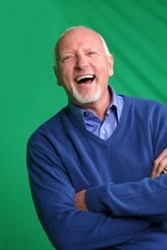 Mark Victor Hansen, co-author, The Power of Focus
Canfield and Hansen are known as the creators of the Chicken Soup for the Soul. Hewitt is a Focus Coach.
---
Click to buy The Power of Focus Tenth Anniversary Edition
---