Posted by Elena del Valle on July 16, 2012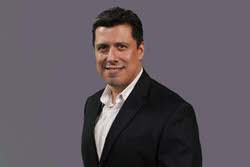 Albert J. Estrada, VP, business development, Olympusat
Oscar Madrid, director, Multicultural Marketing, Verizon
Photos: Olympusat, Verizon
A podcast interview with Albert J. Estrada, vice president, business development, Olympusat,Inc., and Oscar Madrid, director, Multicultural Marketing, Verizon, is available in the Podcast Section of Hispanic Marketing & Public Relations, HispanicMPR.com. During the podcast, they discuss marketing to Hispanics with Elena del Valle, host of the HispanicMPR.com podcast.
In the early 1990s, Albert started his career in the entertainment industry as account executive with Home Box Office (HBO) where we managed the west Texas region for HBO's cable television affiliate sales group. Later he became part of the initial team that launched DirectTV. While there he led and crafted the marketing strategy for DirectTV's introduction into fifteen countries within the Latin America region. After that he marketed and sold high-power geostationary satellites at Space Systems Loral.
Oscar, a native of El Paso, Texas, oversees the national marketing strategy for Hispanic, Asian and African American consumer segments for Verizon FiOS and other consumer products and services. He is a 23 year veteran of the telecom industry, beginning his career with Bell Atlantic, a Verizon legacy company, in 1989. Oscar has served as a board member for the Orange County Hispanic Chamber of Commerce Education Foundation, has partnered with the Hispanic Scholarship Fund on fundraising initiatives and supports Aspira New York's fundraising and marketing efforts. He is a recipient of the New York Chapter of Aspira's Latino Leaders Award.
To listen to the interview, scroll down until you see "Podcast" on the right hand side, then select "HMPR Albert Estrada, Oscar Madrid " click on the play button below or download the MP3 file to your iPod or MP3 player to listen on the go, in your car or at home. To download it, click on the arrow of the recording you wish to copy and save it to disk. The podcast will remain listed in the July 2012 section of the podcast archive.
---