Posted by Elena del Valle on June 20, 2012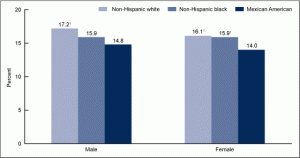 Sugar consumption children and adolescents 2005-2008 – click to enlarge
Chart source: CDC/NCHS, National Health and Nutrition Examination Survey, 2005–2008, CDC.gov
Restaurant owners, food makers and sellers listen up. Insufficient exercise, fatty and sweet foods were among the top concerns of Hispanic respondents to a November 2011 survey question by Mintel, a consumer, product and media intelligence company, about poor health.
Other concerns included eating too many processed foods as well as foods with too many calories or too much salt. The results of the survey of two thousand adults were released in Attitudes Toward Sodium US February 2012, a report by Mintel. The survey did not indicate if the respondents planned to take any action to modify their exercise regime or eating habits.
While Hispanic households spend less than mainstream households in general due to the larger size of Hispanic households (3.3 people compared to 2.5 people in the average non Hispanic home) Hispanics spend as much on groceries as the average household, according to Who We Are: Hispanics Second Edition (see Book outlines Hispanic population major characteristics).
It's not clear whether the beliefs expressed by the Mintel survey takers are based on facts or perceptions and whether they apply only to adults. A study that used data from the National Health and Nutrition Examination Survey examined sugar consumption of United States children and adolescents between 2005 and 2008 (see Consumption of Added Sugar Among U.S. Children and Adolescents, 2005–2008 at CDC.gov and Mexican-American children eat less sugar than peers, says new study on NBC Latino) and indicated that Mexican American children "eat a smaller percent of calories from added sugars than their non-Hispanic white and non-Hispanic black peers."