Posted by Elena del Valle on June 8, 2012
The News and Public Opinion book cover
Photos:R. Lance Holbert, Wayne Wanta, Spiro Kiousis
Four academics, Max McCombs, R. Lance Holbert, Spiro Kiousis* and Wayne Wanta, discuss the effects of news media (print, television and radio) on public opinion in The News and Public Opinion Media Effects on Civic Life (Polity Books, $22.95). In the 210-page softcover book published in 2011, they address the public's attention to news media, effects of media exposure on the gathering of information and forming of attitudes and opinions, and how these elements affect public life or how the process affects public opinion.

R. Lance Holbert, co-author, The News and Public Opinion
The authors point out that some media are suffering financially. In relation to news they refer to how the television networks news programs have decreasing audience numbers which have led to a loss of profitability and power. Soft news programs are more profitable and the networks remain focused on making a profit; also, older men are the most likely to watch network news programs and a young demographic is not following in their footsteps, they say.

Wayne Wanta, co-author, The News and Public Opinion
Cable news networks like CNN and Fox News have a role as well. Fox News viewers, according to a study by Jonathan Morris, were not was well informed as the viewers of other television news programs, followed specific voting patters, held specific political views and had a political perspective distinct from viewers of other news networks.
Public trust of news media is very low and entertainment content within public affairs has become popular because "the present practice of journalism is so poor," the authors say in the first chapter. Citizen involvement in journalism has been greatly enhanced, and continues through the internet; the audience of news media is decreasing and to reach them segmentation, including by ethnicity and language, has become increasingly necessary, the authors say. In the Audiences for News chapter, they indicate their belief that ethnic-based news media will continue to grow.

Spiro Kiousis, co-author, The News and Public Opinion
Education plays a role in learning from the media and people with high levels of education learn more and at a faster rate than their counterparts with low educational levels, according to the authors who discovered that newspaper readers learn more than television audiences. Gender also plays a role, they believe, with men favoring hard news and women favoring soft news. The authors also discuss media selectivity and the importance of form versus content.
*Elena del Valle and Spiro Kiousis serve on the University of Florida Public Relations Advisory Council.
---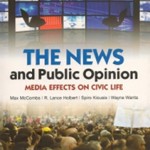 Click to buy The News and Public Opinion
---