Posted by Elena del Valle on May 25, 2012

All Business Is Local book cover

Photos: Portfolio/Penguin, John Quelch and Katherine Jocz
I first heard about a chain of healthy fast food restaurants through a colleague across the country. Because of her high endorsement I tried the one nearest to me and liked it. Over time the food and service declined noticeably. I, and many others who used to stand in line there, stopped going. It doesn't matter how popular the chain remains at the national level I no longer patronize it because the local restaurant is not to my liking. This might be what experts refer to when they say location matters.
Businesses, regardless of their size, must be local and global in order to thrive, according to John Quelch, dean, China Europe International Business School (CEIBS), and Katherine Jocz, a marketing consultant. In their book, All Business Is Local: Why Place Matters More Than Ever in a Global, Virtual World (Portfolio/Penguin Group USA, $25.95), published this year, John Quelch and Jocz explain their reasoning.
Katherine Jocz, coauthor, All Business Is Local
Too often companies focus on a global market and neglect local aspects, they say. The authors believe people shop at the stores that make sense to them regardless of the global efforts or reputation of the company that owns them or the brand. Location matters now more than ever, according to them. Place, they say in the Introduction, is "one of the most reliable bases for targeting and positioning decisions." They stress that the more connected we become worldwide the more we will want to focus on local rather than global.
John Quelch, coauthor, All Business Is Local
Global brands like Real Madrid, Starbucks and McDonald's are often local favorites because of their ties to the communities where they are located; adapting selections and menus to local tastes, buying locally, and employing locally are some of the strategies successful companies rely on, the authors say in the book.
The 248-page book is divided into one Introduction and five chapters: Managing Psychological Place, Managing Physical Place, Managing Virtual Place, Marketing Geographic Place, and Marketing Locally and Globally. Quelch was formerly associate dean of the Harvard Business School and dean of the London Business School. Jocz was formerly a research associate of the Harvard Business School and a director of networks and relationships at Marketspace.
---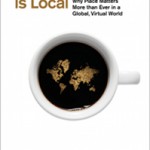 Click to buy All Business Is Local
---