Posted by Elena del Valle on May 14, 2012

Nellie Gonzalez, host, Inside Mi Casa
Photos: Mi Casa Broadcasting
In January 2010, Talk Media Group, LTD., owned by Johnathan Gwyn and a private partner, established Mi Casa Broadcasting in Austin, Texas. Network executives hope it will have broad national appeal to English speaking and bilingual Latinos and be "the next 'BET' for Latinos."
"Mi Casa Broadcasting is on mission to become one of the world's preeminent media companies focusing on the new Latino American niche through cable strategic development including video-on-demand, pay-per-view, IPTV, and Wireless distribution and oversees the cable distribution," said Gwyn, chief executive officer, Mi Casa Broadcasting, by email when asked about the company. "We want to provide advertisers a large Latino audience through properties we currently own like Dia Delivery, Latina Spice, and Please Estop It!"
Mi Casa Broadcasting, available on KTBU affiliate 55.4 in Southeast Texas, can be seen in 22 counties in the Greater Houston Area. The network also has a website, micasabroadcasting.com, where some of the programs are available for viewing.
Sixty percent of the network's content is produced in house and 40 percent is licensed. The network staff produce eight programs per week and is working on a new program. The Mi Casa Broadcasting target audience is second generation English dominant Hispanic Americans aged 18 to 39 which network executives believe have "the biggest buying power of America."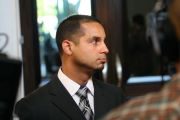 Johnathan Gwyn, CEO, Mi Casa Broadcasting
"We cater to your grandma who wants to speak English too," said Gwyn. "We utilize strong social media and interactive media with our ability to send text messaging live on screen. We market through billboards, print, mobile, radio, and TV and live remotes."
Programming includes: Dia Delivery, offering news about Latinos and things that effects them; Latina Spice, a talk show about women's issues hosted by Denise Castro, Christina Salazar, Jennifer Peña, and Kattya Solis, according to the network website; Please Estop It, a variety show about what not to do on the web; Inside Mi Casa, hosted by Emmy Award winner Nellie Gonzalez; and The Right To Know, designed to raise awareness about issues the network programming executives believe matter to the Hispanic community.
Prior to launching Mi Casa Gwyn developed international Hispanic American media campaigns. According to his biography he was instrumental in the development and start-up of Viva Vision, a mobile TV entertainment service portal, where he worked as director of production and brand manager.