Posted by Elena del Valle on April 16, 2012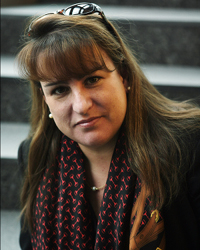 Patricia Quijano Dark, editor, Okespanol
Photo: Thatcher + Co.
A podcast interview with Patricia Quijano Dark, editor, Okespanol, is available in the Podcast Section of Hispanic Marketing & Public Relations, HispanicMPR.com. During the podcast, she discusses her publication with Elena del Valle, host of the HispanicMPR.com podcast.
Patricia was raised in New York City and her family hails from Argentina. A graduate of Columbia University she worked at publications in London, England and at El Clarin, the Argentine daily, before moving to Salt Lake City. In Salt Lake City, she worked in journalism as a freelancer and edited translations of Newsweek for the Spanish language edition.
Prior to working at OKespañol she was executive director of the Utah Hispanic Chamber of Commerce. She has served on several boards of local non-profits and is one of the co-founders of the Dual immersion Academy, a dual immersion school in Utah. She is highlighted in volume I of the book Utah Latinos and was named one of 30 Women to Watch by Utah Business magazine.
To listen to the interview, scroll down until you see "Podcast" on the right hand side, then select "HMPR Patricia Quijano Dark" click on the play button below or download the MP3 file to your iPod or MP3 player to listen on the go, in your car or at home. To download it, click on the arrow of the recording you wish to copy and save it to disk. The podcast will remain listed in the April 2012 section of the podcast archive.
---