Posted by Elena del Valle on February 13, 2012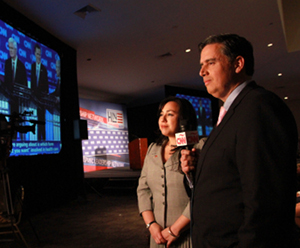 CNN en espanol news staff covering 2012 presidential debates
Photos: CNNenEspanol, Stagnito Media
The changes in media that deepened with the Great Recession and the demise of the traditional profit model will continue; social media and citizen journalism will likely impact media; and media channels are expected to further evolve in 2012, likely merging digital and social media into the mix, and continuing the development of media hybrids, according to a recently released Vocus report.
Vocus analysts believe that last year media experienced "an evolutionary revival." While more newspapers closed last year (152) than the previous year (151) and hundreds of staff were left jobless there were 201 launches, 158 online and 43 in print. The new channels, many of them focused on local happenings, are likely to be home to young and digitally savvy staff.
Hispanic Retail 360 December 2011 cover
The effect of the economic downturn was milder on magazines than on papers last year although there were very few national print magazine launches. Lucky Peach, Hispanic Retail 360 and The Social Media Monthly were cited in the report. Executives of Hispanic Retail 360, launched April 2011 by Stagnito Media as a continuation of the company's annual conference by the same name, plan to publish four issues in 2012. The 36-page magazine, edited by Don Longo and produced by four staff, is divided into 60 percent editorial and 40 percent ads. It sells for $50 per year.
At the same time 50 new online only magazines began publishing in 2011. While many worried that the iPad would signal the end of magazines the report speculates the device may be saving magazines because people are looking for digital content to read on their tablets.
In 2011, streaming of television programs online was growing and there was growth in television and television related websites for Hispanics, according to the report. Several major TV networks launched websites targeting the Spanish dominant Hispanic population. CNN launched CNNenEspanol. com and Fox News launched Fox News Latino. NBC may launch NBCLatino.com this year.
Last year, News Corp., Fox's parent company, launched Fox Hispanic Media, which encompasses Fox Deportes, Utillisima and Nat Geo Mundo, a Spanish-language National Geographic channel. NBC established Hispanic at NBC, an integrated sales/marketing division and research platform called.
Don Longo, editor, Hispanic Retail 360
The Spanish dominant market has been targeted by some local news sites. For example, the El Paso Times offers SomosFrontera.com; Patch.com offers Latino oriented editions in Southern California. Online Hulu launched Hulu Latino with Spanish language soap operas and other programs from Univision, Estrella TV, Galavision, Azteca America, and Telefutura (see Hulu targets U.S. Spanish speakers ). Overall, the researchers estimate there will be strong competition between television and other news sources online.
There was an increase of 240 million radio listeners 12 and older in 2011. Online radio use increased and the favorite format seems to be, if last year is any indication, news and talk shows, according to the report.
Blogs and bloggers have found acceptance and in some cases popular followings. Last year's growth in blogs was mainly in the consumer sector, especially blogs about domestic life, parenting and cooking as well as professionals and companies, according to the report.
The State of the Media Report 2012 Evolving and Merging, an 18-page report, was compiled and written by Katrina M. Mendolera of Vocus, a provider of cloud-based marketing and public relations software. The report was the third annual State of the Media Report produced by the Vocus Media Research Team who predict that in 2012, cultivation and implementation will continue along with new ideas and trends. Print and broadcast will be enhanced into "shinier, newfangled versions that now incorporate all the elements of new and social media."