Posted by Elena del Valle on January 23, 2012
The cast of Melodia de Amor on Tutele
Photos: Tutele/Maker Studios
In November 2011, Maker Studios, owned by "top YouTube stars," backed by venture capital firms and funded by YouTube as an Original Partner, began targeting Latinos in the United States, Mexico, South America and Spain with The Tutele Network, Tutele and Tutele Dos, on YouTube. The two channels, youtube.com/tutele and youtube.com/tuteledos, offer three original bilingual English and Spanish web programs each per week. Tutele.tv, a similarly named website, is not affiliated with the Network. Plans are in place to develop a website for The Tutele Network.
Jay Bugarin, head, Bilingual Programming Tutele/Tutele Dos
"Tutele is our main hub, currently our programming consists of our action/comedy show Si, es I, Pepe, the novela Melodia de Amor and our own News, Variety and Entertainment show Hello Domingote," said Jay Bugarin, head, Bilingual Programming Tutele/Tutele Dos. "Tutele Dos has extras such as behind the scenes videos, interviews with our talent, and 'confessionals' from the characters of the shows. This will give our viewers a front row seat to the interesting world of our creative talent and to the many adventures of our unique team."
"Our content gets monetized through adsense, sales, brand integrations, product placement, etc. We work closely with YouTube in relation to potential brand integration that may be fitting for our network," he replied when asked how The Tutele Network, generates revenue.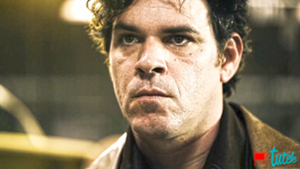 Sam Macaroni as the evil "El Jefe" on the action comedy show Si! Es I, Pepe
Tutele, the net's main portal, and Tutele Dos, its ancillary content portal, have programming in Spanish, English and Spanglish. Tutele has 12 online channels and two hub channels. The network's focus is cultural programming for young and adult Latino audiences. Executives plan to broadcast behind-the-scenes videos, interviews with network talent and guest stars, and "confessionals" from characters of the shows on the network on Tutele Dos. Also, The Tutele Network partnered with already established and successful online channels aimed at the Latino community.
According to promotional materials, Maker Studios is an online media company featuring content from KassemG, The Game Station, NicePeter's Epic Rap Battles of History, the ShayTards, LisaNova and Ray William Johnson. Maker Studios boasts of having over 500 million views online per month. The company, which produces and distributes content for 250 online channels with 31 million subscribers and 1.8 billion views, produces or manages and distributes 16 of the top 20 channels on YouTube.