Posted by Elena del Valle on November 29, 2011
Information provided by Event Partner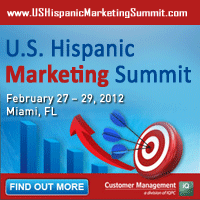 IQPC's 4th U.S. Hispanic Marketing Summit
Miami, FL on February 27 – 29, 2012
The U.S. Hispanic Marketing Summit brings together marketing professionals to brainstorm the latest Hispanic Marketing & Advertising strategies to tap into the fastest growing demographic in the U.S.
The Latino- case for action has beome a case harder to argue against than one to embrace. So let's restate what you've heard before yet one more time: According to the U.S. Census, Latinos grew by 43% from 38 Million in 2000 to 50 Million in 2010, while the Non-Hispanic population only grew by 4.9%. But more than population numbers, there is a significant financial growth represented by this group. In the last 10 years, Hispanic buying power has grown by 347% reaching $1 Trilion in 2010.
Source: "Top 5 Reasons Why Latinos Must Be on Your Agenda"
By: Lili Gil, Hispanic Market Expert, Media Contributor, and Co-Founder of XL Alliance
**Former Director of Marketing Services – Hispanic Marketing Initiative Lead of Johnson & Johnson
Early confirmed Hispanic marketing expert speakers include:
– Dawn Lee Williamson, VP of Sales & Marketing, CNN
– Adrian Fueyo, Director of Integrated Digital Marketing, NBC Universal/Telemundo
– Juan Penso, Director of Hispanic Direct Response, Comcast
– Santa Brito, Senior Manager of Consumer Marketing, ESPN Deportes
– Maribel Viteri, Regional Marketing Director of Latin America, Molson Coors
– Lili Gil, Hispanic Market Expert, Media Contributor and Co-Founder, XL Alliance
– Mike Foley, U.S. Hispanic Marketing Lead, Post Foods, LLC.
– Tatiana Hansell, Senior Multicultural Marketing Manager, Unilever
– Marc Strachan, VP of Multicultural Marketing, North America, Diageo
– Ingrid Rivera, Regional Marketing & Profitability Manager for Latin America and Caribbean, Subway
Benefits of attending:
– How to acquire buy-in to create, expand via new allocation, or re-define a dedicated Hispanic Advertising & Marketing division
– Create a culturally relevant marketing plan
– How to cater to acculturation as oppose to assimilation
– How to leverage a balance between both traditional and emerging marketing methods, market research, and segmentation
Join us on February 27-29, 2012 in Miami and be part of this unique opportunity full of roundtable discussions, networking receptions, cast studies, workshops and more! Register by January 6th and save up to $800 on the All Access Pass! Mention code: USHM_HispanicMPR for a 10% discount for Hispanic MPR members
Visit www.USHispanicMarketingSummit.com for more information
About IQPC
IQPC (www.iqpc.com) provides business executives with tailored practical conferences, large-scale events, topical seminars and in-house training programs. Producing over 1,500 events annually around the world, IQPC continues to grow and has offices in cities across six continents including: Berlin, Dubai, London, New York, Sao Paulo, Singapore, Sydney, and Toronto.